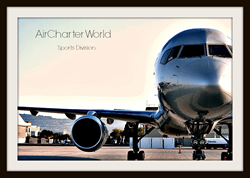 San Francisco, CA (PRWEB) January 15, 2015
AirCharter World congratulates the Ohio State Buckeyes on winning the 2015 CFP National Championship game with the University of Oregon Ducks.
AirCharter World is proud to confirm it transported thousands of passengers on charter flights during the 2014-2015 Bowl season for our nation's top collegiate football teams. AirCharter World utilized a variety of Boeing B767, B757, B737, MD80 aircraft and Embraer E190 charter aircraft to fly university teams, bands, cheer, donors, alumni, fans and staff to their championship games.
AirCharter World is a full-service air transport brokerage since 1988 and based near San Francisco, which arranges transport aircraft for wet leases and charters on behalf of US and worldwide institutions, corporations, governments and airlines, for passenger, cargo, and VIP flights.