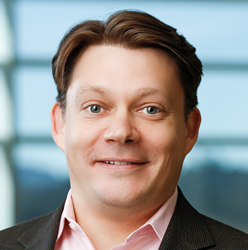 Redwood City, Calif. (PRWEB) January 14, 2015
StrongView, a leading provider of email marketing and cross-channel marketing solutions for enterprises, today announced the appointment of Dave Frankland as chief strategy officer. In this new position, Frankland leads corporate strategy for StrongView, developing and evangelizing the firm's contextual marketing vision to the marketplace and aligning internal resources to make it successful.
A recognized thought leader, Frankland previously held leadership roles at Forrester Research and DoubleClick, and also provided market strategy to brands as part of his customer relationship strategy consultancy, Customer Helix. With his diverse background, Frankland brings a broad range of data-driven and digital marketing expertise to this role. His deep understanding of how brands engage and understand their customers will be essential as he seeks to further elevate StrongView's proven approach to contextual marketing.
"The challenges and opportunities for brands to successfully engage with and deliver value to consumers are greater than ever," said Dave Frankland, chief strategy officer at StrongView. "My career has been all about helping companies recognize where markets are moving and to mobilize to take advantage, and I'm excited to apply those same kind of insights to help StrongView capitalize on its already strong foundation."
While vice president, research director and award-winning analyst at Forrester Research, Frankland co-launched Forrester's Customer Intelligence practice and oversaw a team of analysts that helped companies better leverage customer knowledge to improve their marketing performance and business strategy. At DoubleClick, Frankland served as the company's vice president of corporate communications prior to its acquisition by Google.
"Dave is a singular talent in this industry with a strong track record of helping brands take their marketing to a new level," said Bill Wagner, CEO of StrongView. "We're excited to have Dave onboard leading StrongView's strategy and helping our clients discover what contextual marketing can do for their business. Dave joins StrongView at an opportune time, as no other ESP is positioned with our vision, capabilities and independence to lead a transformation of email marketing."
ABOUT STRONGVIEW
StrongView's cross-channel marketing solutions provide enterprise marketers with the tools, services and insights required to effectively engage today's constantly connected customers. Combining a powerful cross-channel campaign management solution with market-leading data access and analysis, StrongView's Marketing Cloud enables marketers to understand the current context of each customer and respond in real time with relevant messages across email, mobile, social, display and web.
A champion of "Present Tense Marketing," StrongView is committed to delivering solutions that reflect the new reality of the technology-empowered customer. Based in Redwood City, CA and backed by leading venture capital investors, StrongView has been helping global brands in retail, travel, finance, entertainment and online services overcome the limitations of other marketing platform providers for more than a decade.