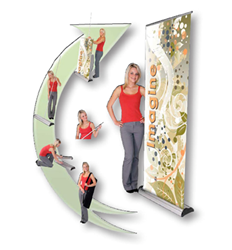 Sunrise's Retractable Banners are among the very best in the industry... These portable display graphics feature attention grabbing vibrant graphics, easy to carry, and can be set up by one person in minutes without requiring any tools.
Chicago, IL (PRWEB) January 21, 2015
Exhibitors around the world are always looking for innovative display graphics that stand out from the crowd, grab attention, and help them attract customers. Of course, these products need to be portable, lightweight, and easy to set up. In addition to popular display options such as table cloth, pole signs, and hop-up display walls, Sunrise Hitek is proud to introduce their custom retractable banner stand http://www.sunrisehitek.com/product/retractable-banner that looks awesome, easy to use, and can be set up by one person without using any tools.
Also known as pop-up banner, banner up, or roll up banner, the retractable banner is one of the most versatile solutions in exhibit graphics. It typically consists of the banner stand hardware case, a full color printed graphic, support poles, and a carrying case. While this general bundle is available from many sources, Sunrise's Retractable Banners are head-and-shoulder above the competition in a few ways:
Sunrise's retractable banner is available in three different widths, 31.5", 35.5", and 39.5", all with a 83.25" display height. Multiple units can be placed side-by-side to form a portable display wall. It comes loaded with a custom printed graphic, a padded carrying case with shoulder strap, and an outside shipping carton. Sunrise also goes the extra mile of labeling each layer of packaging with a miniature graphic for easy identification.
Many cheap stands are made with plastic parts to save cost. Because a plastic case is not stable, they often require swing-out legs to stabilize the base, which can be a health hazard since it's easy for people to trip over these legs. Sunrise's stands are made of fine quality aluminum, which is strong, lightweight, and extremely stable, designed for years of use and re-use. The solid banner base is self-balancing, and carries a clean and sleek profile.
About Sunrise Hitek
Sunrise Hitek http://www.sunrisehitek.com/product/retractable-banneris an Inc. 5000 company established in 1988 and employs the most advanced equipment and technology, such as G7-certified HP Indigo and UV flatbed presses, laser engraving, and digital die-cutting, to create best-in-class color printing, short-run packaging, P.O.P. retail displays, and signage products. A privately-owned enterprise, the company is based in Chicago and sells products worldwide.