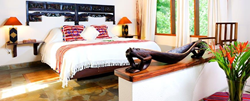 As Belize matures as a destination with so many things to see and do, we had to grow our website to accommodate that evolution
San Ignacio, Belize (PRWEB) January 15, 2015
The Lodge at Chaa Creek has launched a new website aimed at making learning about travel and vacationing in Belize an easier and more enjoyable experience, according to the Belizean eco-resort's owners.
Lucy Fleming, who with her husband Mick established Chaa Creek just as Belize achieved independence in 1981, said that the new website and suite of marketing platforms reflect both Chaa Creek's and Belize's growth over the years.
"When we started out, our marketing tools were hand painted signs and posters that I designed and posted around Belize. We were then charging eight Belize dollars (US $4.00) a night for the one room thatch cottages we built, and that was pretty much the extent of our marketing budget," Ms Fleming recalled.
"Chaa Creek now offers 23 designer cottage rooms, as well as luxury suites with private Jacuzzis and other amenities, a fine dining restaurant, lounge, a wine cellar, stables, canoe fleet, Spa, conference centre and so much more within our 365 acre nature reserve, so our marketing efforts naturally evolved along with all of that.
"And, as Belize matures as a destination with so many things to see and do, we had to grow our website to accommodate that evolution as well," she said.
Ms Fleming said that while the new website, launched on January 12th 2015, carries across much of the same content as the previous site, it has a fresh new look, enhanced functionality and was developed for a busy, increasingly mobile clientele.
"We appreciate that many of our guests and potential guests lead busy lives and have become used to accessing information from mobile devices such as tablets and smartphones. We wanted a dual purpose site in that people can easily access it while on the go, and then later, in the comfort of home or office, visit it on bigger screens and drill down for more detail," she said.
Ms Fleming explained that Chaa Creek's extensive inventory of tours, all-inclusive Belize vacation packages and variety of on-site activities have created a number of niches that need a larger format to adequately present and describe.
"We've been described as Belize's 'destination within a destination' and pride ourselves on offering something for everyone, but having such a large number of offerings presents marketing challenges. In order to adequately present our inland adventures, coastal and island excursions, Maya archaeological site explorations, weddings, honeymoons, the Spa, butterfly farm, onsite museum and more, we needed a well designed, user friendly website that works with our other platforms to give the big picture as well as a focus on individual interests and niches.
"We're hoping that the new website, combined with the recently launched newsletter, along with Chaa Creek's Belize Travel Blog, Facebook page and other communications efforts will help the travelling public, as well as agents and travel professionals, become more familiar with both Chaa Creek and Belize," she said.
The Lodge at Chaa Creek is an award winning eco-resort set within a 365 acre private nature reserve in Belize.
ENDS