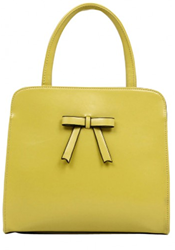 Handbags could show one's personality.
(PRWEB) January 17, 2015
On the Eve of Valentine's Day, Fecbek.com, a leading online store for dresses and other related accessories, will release its bags assortment. According to Alex, the senior manager of the company, the promotion will end on Valentine's Day.
An endless array of beautiful bags can sometimes be dazzling. Many men don't know what kind of bags their girlfriends like. "We believe whenever you get familiar with her character, you will choose the right bag for her," designer Alice says.
Different women love different handbags. "We designed different styles of handbags for different women. We find that the women who love mini handbags are confident. They like the simple life. Those who want to buy designer labels for material value don't like to be controlled by others. They tend to be the controller in the relationship. Those who like oversized bags seem to tell others that they are independent. In fact, they are insecure about their futures. They tend to know everything about their lovers. Some women are fond of reticules. They are the kind of people who have social experience. They will keep calm in times of difficulty. What they mostly want is marriage. Those who enjoy shoulder bags know their own mind clearly. They are very rational when they make important decisions. A man of rock-solid integrity would be a good match for them. A few women like to put some personal articles into pockets instead of handbags. They are feminists. They think handbags are feminizing articles," Alice says.
So, the group of Fecbek.com prepareed a variety of different styles for different customers. In a word, different styles of bags show different characters. To find out more,please visit: http://topics.fecbek.com/valentine%27s-day-promotion-bags.html.
About Feckbek.com
Feecbek.com is a leading online retail and wholesale store specializing in selling clothing, shoes, bags, wedding and occasion dresses, cosplay, costumes and beauty products. With a wide selection of products at a low price, the company has been universally recognized for honesty, high efficiency and thoughtful services; it has built a long-term relationship with many customers.
For more information, please visit http://www.fecbek.com/.