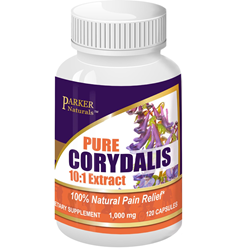 (PRWEB) January 14, 2015
Recently, dedicated health care specialist Parker Naturals released a new natural supplement on Amazon.com. Called Pure Corydalis, this herbal product is expertly formulated to help minimize pain and inflammation. Produced using the best quality roots of the Corydalis plant, this botanical supplement is enriched with important analgesic compounds called dehydrocorybulbine (DHCB). Scientifically shown to help block acute and chronic pain, DHCB has gained plenty of momentum as a suitable alternative to chemically derived pharmaceutical products. Since the release of Pure Corydalis, Parker Naturals has received numerous positive reviews. This is testament to the high quality this extra strength formula delivers.
For satisfied customer Stephanie Bajzik, Parker Naturals Pure Corydalis supplement has been the answer she was searching for to live without the chronic pain of arthritis: "As a long time sufferer of intense pain due to arthritis, I've tried virtually everything. There's no lengths I wouldn't go to diminish and alleviate my aches and pains. So when the Corydalis offered pain relief in an all-natural form, I decided to give it a shot. I'm happy to say that it was a major help for me, and I'm thankful every day to have finally found a product that works for me."
Not only will Pure Corydalis help to block pain associated with joint inflammation conditions such as arthritis, it also assists with reducing discomfort linked to headaches, migraines, menstruation, and back aches; among other problems. Unlike common prescription pain relief medications, the natural analgesic offer by DHCB compounds have not been shown to have addictive qualities. The side effects are less severe, with Corydalis used for thousands of years in natural Chinese medicinal remedies without any harmful reactions.
Customer satisfaction is at the heart of Parker Naturals business philosophy. Ensuring that all their products are premium quality and affordable is key to their ongoing success. Made within the United States in FDA approved facilities and following cGMP, quality control is at the forefront. Although Pure Corydalis has only been on the market for a short time, it's clear that this supplement is top quality and will grow in popularity. To celebrate the success of this supplement, Parker Naturals is offering a special limited time discount, while current supplies last.
About Parker Naturals
Parker Naturals is committed to providing only the best possible products. Their 100% natural supplement uses premium quality Corydalis root sourced from specific sites renowned for their purity. This Pure Corydalis supplement is manufactured in facilities that have been FDA approved and adhering to strict cGMP. Extra strength, this is strongest Corydalis supplement available on Amazon.com. For a limited time customers can purchase this supplement at a special introductory price, while current supplies last.