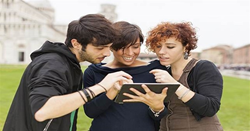 So many victims of bullying in the United Kingdom who lost their lives to suicide because they either couldn't cope with bullying or found it very hard to tell their loved ones.
London, UK (PRWEB) January 15, 2015
While Bullying in the United Kingdom remains present everywhere from homes, workplaces to even surfacing online, the truth remains that parents and educators in the UK need to remain alert to the epidemic of bullying in schools, in a series of articles in focus today, NoBullying examines the reasons, motives and latest numbers related to school bullying in the United Kingdom.
Ditch the Label released in October 2014 its 2014 Annual Bullying Survey which showed the alarming statistics of how bullying continues to plague British teens and children. The most alarming number from This Article Titled "Bullying statistics" published by NoBullying on January 11th, 2015 revealed that 45% of British youth experience some form of bullying before they turn 18 and 26% of them get bullied on a daily basis.
An alarming 83% of the respondents revealed that these bullying episodes had a negative effect on their confidence and self esteem.
Another aspect of bullying in the United Kingdom is physical bullying which generally involves harmful physical contact by one person with another. This could include hitting, slapping, pushing, kicking, biting, punching, throwing things at a person, or some other physical contact action that causes harm or fear repeatedly. According to this article published on January 11th, 2015 and titled "Physical bullying in the United Kingdom", Physical Bullying can be based on a particular attribute of a person or a general sentiment that the victim is weaker and can't effectively defend or fight back. Particular attributes can be based on gender, race, religion, background, physical appearance, culture, or perceived sexual orientation. In the same survey, 61% of respondents have been physically attacked and 40% of all respondents reported being bullied for personal appearance while 36% reported being bullied for body shape, size and weight.
NoBullying feels it is worth stressing that while scars or broken limbs heal fairly quickly, the mental and emotional scars last for life. Additional effects of physical violence and bullying can include loneliness, alienation, chronic stress and related health conditions caused by it, anxiety, irrational fears of things or concepts associated with a bullying experience, depression and even self-harm or suicidal ideation.
On a brighter note, NoBullying feels the work of organizations such as Childline and Barnardos to be astounding in the effect it has on Anti Bullying efforts all over the United Kingdom. Childline receives calls and provides counseling on matters such as bullying, cyber bullying, child abuse, parental separation, divorce and substance misuse.
Ciaran Connolly, Co Founder of NoBullying says "There were so many victims of bullying in the United Kingdom who lost their lives to suicide because they either couldn't cope with bullying or found it very hard to tell their loved ones what they were going through. Laws and policies on bullying need to be stricter and more awareness need to happen."
He added that parents and teachers should make a point to educate the younger generations about the sad outcome of neglecting online safety and photos safety. According to Connolly, it is quite imperative to press for more firm laws condemning all acts of bullying and harassment.
NoBullying.com features many pages dedicated to parents, teens, teachers, health professionals as well as posts related to cyber safety and the latest news about law making concerning curbing Bullying worldwide as well as inspirational Bullying Poems and famous Bullying Quotes.
The website regularly updates its bullying statistics and cyber bullying statistics as it is essential to understand how widespread the bullying epidemic is. It also regularly runs cyber bullying surveys and questionnaires to get recent updated statistics on everything related to cyberbullying.
He also added that anyone suffering from bullying in any form or way can always find advice and help on the NoBullying website – but if anyone is suffering from severe bullying or cyber bullying, the best thing is to talk to someone locally – a parent, teacher or local organization that has been set up to help with specialized councilors to deal with this topic.