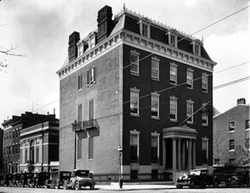 BALTIMORE (PRWEB) January 16, 2015
FOR IMMEDIATE RELEASE
Contact: Laura Rodini lrodini(at)mdhs(dot)org 410-685-3750 Ext. 322
The Maryland Historical Society proudly announces that the historic Enoch Pratt House (201 W. Monument Street, Mount Vernon) will be the site of a new, immersive theater experience in Baltimore beginning in March. The theatrical performance, called Mesmeric Revelations! Of Edgar Allan Poe, will channel the spirit and characters of one of Baltimore's most treasured writers. Performances will take place Thurs-Sat from March 26-early May, 2015, at 8 PM. For tickets, visit myedgarallanpoe.com. View a video preview by clicking here.
Home to one of Baltimore's most influential philanthropists, the Enoch Pratt House is a circa 1840s Greek Revival home that is listed on the National Register of Historic Places in Baltimore's West End. It has been closed to the public since 2004. "Built during the last decade of Poe's life, there is no place more perfect for the events of this show to play out," says Producer and Co-Director Glenn Ricci.
"We are thrilled to once again open the doors of the historic Enoch Pratt house near the Howard Street corridor, and to host a new style of performance theater that is a testament to Baltimore's blossoming art scene," says Maryland Historical Society President Burt Kummerow.
Immersive Theater in Baltimore
Neither an historical reenactment nor a reproduction of Poe's stories, Mesmeric Revelations! of Edgar Allan Poe is a new, interpretive artwork created by a collective of Baltimore performers and artists assembled by 2014 Rubys grantee Glenn Ricci. The group will invite audiences into a Poe-inspired world that can be freely explored as stories unfold and secrets are revealed. Throughout the show, audience members will share moments directly with the characters, interact with the sets, explore the environment, choose which stories to follow, and come away with a unique experience to discuss with others. The six main characters are pulled from Poe's life and fiction and will vacillate at will between the two.
"Baltimore is a great place for immersive theater, because both the artists and audiences are very adventurous and ready to have new theatrical experiences," said Susan Stroupe, who is co-directing the work with Ricci.
Edgar Allan Poe (19 January 1809--7 October 1849) was born in Boston, but it was in Baltimore that he met the themes so prevalent in his fiction: love, death and burial. The two-hour performance features six characters representing both real-life and fictional inhabitants of Edgar Allan Poe's life. Dramatic highlights will unfold on the first floor of the Pratt House and include representations of mesmerization (a practice that gained prominence in the 1840s), a ballroom scene, and a séance. The performance will take place Thurs-Sat from March 26-early May, 2015 at 8 PM. For tickets, visit myedgarallanpoe.com.
Mesmeric Revelations! of Edgar Allan Poe was initially supported by a Rubys Artist Project Grant, which is a program of the Greater Baltimore Cultural Alliance (GBCA). The Rubys are project-based funding of up to $10,000 for Baltimore-regional artists to catalyze the creation of innovative artistic projects. The Rubys were established in 2013 by GBCA with the vision and start-up funding from the Robert W. Deutsch Foundation, to provide meaningful support to individual artists as well as enrich the arts and broader community of Baltimore and the five surrounding counties. To learn more, visit http://www.baltimoreculture.org.
In addition, this performance would not be possible without the generous support from PNC Bank.
About the Enoch Pratt House
Enoch Pratt and his wife, Maria Louisa, purchased two undeveloped lots on the 200 block of W. Monument Street for $12,000 in 1846. The lots had been part of the original land grant sold to George Eager in 1688 by Lord Baltimore. By the mid-1840s, the area known as Mount Vernon was the most exclusive and fashionable neighborhood in the city. The Pratts constructed a substantial five bay, two-and-a-half-story tall gabled Greek Revival House, which was completed in 1847. A fourth floor and Mansard roof were added in the 1860s. Enoch Pratt lived in the home until his death in 1896, and upon his wife's death in 1911, the property was passed to the Trustees of the Sheppard Asylum. In November 1916, Mary Washington Keyser purchased the house and grounds for the Maryland Historical Society. For decades, the house served as a site for educational tours for Maryland school children until it was closed to the public in 2004. "The house will be like another character in the show—and it really does have a great deal of character," Ricci said.
About The Maryland Historical Society
Founded in 1844, The Maryland Historical Society Museum and Library occupies an entire city block in the Mount Vernon district of Baltimore. The society's mission is to "collect, preserve, and interpret the objects and materials that reflect Maryland's diverse cultural heritage." The Society is home to the original manuscript of the Star-Spangled Banner and publishes a quarterly titled "Maryland Historical Magazine." Visit http://www.mdhs.org.
For more details, contact Marketing Director Laura Rodini at lrodini@mdhs.org or by phone: 410-685-3750 ext. 322.