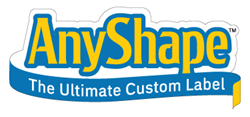 "The launch of AnyShape™ labels signifies our ongoing commitment to innovative solutions that help our customers grow sales," says Mike Gore, VP Operations.
New Albany, IN (PRWEB) January 15, 2015
Discount Labels is excited to now offer labels that are cut by laser to any shape. The company has named these AnyShape™ labels, and coined the tagline "The Ultimate Custom Label."
These labels can be cut with incredible precision to highlight a unique shape such as a name or logo. They are available in spot or full color on most standard stocks in sizes up to 26in2. For customers looking for shaped labels with durability, AnyShape™ labels can be printed as extended life durable decals for exterior use, or as weatherproof labels.
"The launch of AnyShape™ labels signifies our ongoing commitment to innovative solutions that help our customers grow sales," says Mike Gore, VP Operations. "We are pleased to have one of only about a dozen ABG Digilase Laser Die Cutters so that we can offer this capability. Laser cut labels are another way marketers can differentiate products in the Health, Beauty, Food, Beverage, and other packaged goods categories. Label designers have complete freedom to think outside the rectangle and create eye-catching labels. Best of all, we can offer the same fast turnarounds and competitive prices for AnyShape™ labels as we do for our other premium labels."
Samples, Pricing and Educational Tools Are Designed to Make Selling AnyShape™ Labels Easy for Distributors
To reinforce the company's position as a helpful partner, Discount Labels is launching AnyShape™ with a highly integrated set of tools designed to raise distributors' selling confidence. These include:

Free samples
Easy online quotes
Competitive pricing with up to 50% margins
Video of the AnyShape™ laser die cutter in action
Customer-friendly FAQs
"We are very committed to helping our distributors succeed with this product," says Gore. That's why we are developing additional tools and training materials to build sales confidence. Of course, we also have our entire team trained and ready to assist."
Customers who are interested in learning more about AnyShape™ labels are encouraged to go to DiscountLabels.com to see a video of the laser die cutter in action. They can get free sample packs by emailing marketing(at)discountlabels(dot)com. To get a cost estimate, they can reference the company's catalog or call one of Discount Labels' experts at 800-995-9500.
About Discount Labels:
Discount Labels specializes in die cut labels, premier labels, durable labels, UL labels, variable data labels, printer labels, magnets, stamps and promotional products for every industry including automotive, construction, healthcare, manufacturing, restaurant and retail. Discount Labels sells through the largest authorized label distributor network in the U.S. and Canada. Eligible dealers are active in one of the following industries: printing, graphic arts, specialty advertising, business forms, packaging and shipping, signs, banners, trophies, rubber stamps, or office products. Established in 1965, Discount Labels has grown to be America's largest wholesale label supplier. Find more information at http://www.discountlabels.com and visit us on Facebook, Twitter and Google+.