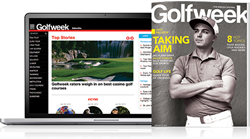 We're not changing what we cover ... just how we cover it.
Orlando, Fla. (PRWEB) January 14, 2015
Kicking off its 40th anniversary celebration, Golfweek today debuted the rollout of a 360-degree reboot that focuses on evolving every aspect of the brand and optimizing how its collective products and properties work together to deliver the game's most comprehensive coverage. The revamp – which includes a fresh logo, newly reimagined magazine and fully responsive website – realigns the brand's overall content strategy to mirror the changes in how golfers consume news and information.
"We're not changing what we cover," said Golfweek Vice President/Publisher Jereme Day, "just how we cover it. In the magazine, we're devoting even more space to exclusive insider stories, perspectives and features that provide more lasting relevance to our readers week after week. On the digital side, we're focused on providing easy, immediate access to breaking headlines, real-time updates and expert analysis around the clock. This shift is a major move in our continuing evolution and an exciting step toward our next 40 years."
Key components of Golfweek's relaunch include:

Magazine: Featuring clean layouts, modern structure and bold visual elements, the new Golfweek reflects the magazine's forward-looking approach to golf coverage and emphasizes the expertise of its award-winning writers.
Website: Cross-platform compatibility, intuitive content organization and improved searchability are the driving forces behind the new Golfweek.com, which now boasts a faster load time and a sleek, streamlined look to enable user-friendly browsing.
E-magazines: Golfweek's equipment-focused Toy Box Extra and travel-centric Golf Life Extra digital publications offer an enhanced reader experience with more social integrations, fresh features and a new, unified look.
E-newsletters: Mobile optimization is the cornerstone of Golfweek's redesigned e-newsletters, which debut with a new format and functionalities, all to facilitate easy reading and faster content delivery.
"While our content strategy has evolved, our driving philosophy remains the same: serve serious golfers by providing the best coverage we can in the best way possible," said Golfweek Editor Steve Harmon. "This enables us to deliver the content our audience demands on the platforms that suit their changing needs."
Visit Golfweek.com/Relaunch to check out Golfweek's digital products and access a free issue of the new Golfweek magazine.
Assets
To download images of Golfweek's new cover and website, visit the news section of GolfweekMediaKit.com or click here for a direct link.
About Golfweek
Founded in 1975, Golfweek is the most authentic, authoritative and independent voice in golf. Serving enthusiasts who are truly passionate about the game of golf, the Golfweek brand includes Golfweek magazine, Golfweek.com, Golfweek OnDemand, Golfweek Mobile, Golfweek Custom Media, The Golf Wire, The Apparel Wire, The Tour Van and TurfNet.com. Golfweek is part of Turnstile Media Group, which specializes in developing diverse media platforms that engage and strengthen the communities they serve. Founded in 1990 and headquartered in Orlando, Fla., Turnstile Media Group is also the parent of Professional Artist, Community Media Holdings, The Seminole Voice, The Winter Park/Maitland Observer and Turnstile Connect.
###