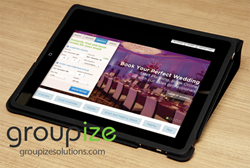 Eliminating the traditional RFP and automating the group booking and tracking activities benefits group organizers and our sales staff alike.
Boston, MA (PRWEB) January 14, 2015
Groupize Solutions, Inc., the leader in group travel technology solutions for hotels, resorts, independents and chains, announced that 12 new properties selected their award wining solution in December. This increases the company's growing portfolio to over 8,000 properties and showcases the diversity of properties looking to meet the emerging needs of the fastest growing segment in hospitality.
The hotels include the L.A. Hotel Downtown in California, Deauville Beach Resort, Holiday Inn Fort Myers Airport in Florida, Colony South Hotel in Maryland, Federal City Inn & Suites in New Orleans, Mount View Hotel & Spa in Napa Valley, Inn at Longwood in Boston, Polynesian Water Park in Wisconsin, Tamarack Lodge at Bear Valley, and Southern California's Luxe Hotels – Luxe Rodeo Drive, Luxe City Center, Luxe Sunset Blvd.
"At Federal City Inn and Suites, we are committed to delivering the best possible guest experience at every touch point, starting from the website," said Brett T. Forshag, Vice President of Sales & Marketing at HRI Lodging. "Eliminating the traditional RFP and automating the group booking and tracking activities benefits group organizers and our sales staff alike. Groupize Solutions is an innovative company paving the way for change in this already dynamic industry, and we are excited to be part of the evolution to better serve and manage groups."
US hotel occupancy in 2015 is expected to reach its highest level in 20 Years and PwC US anticipates acceleration in group bookings to be a major factor in the growth. By giving organizers the ability to shop, book and manage small groups in real-time on the hotel website, hotels can attract and convert more small group, meeting and SMERF business including reunions, weddings, tours, sports trips and family vacations. The turnkey Groupize solution consists of three integrated solutions to easily manage the complete lifecycle of a group – the Group Booking Engine (GBE),Pipeline Response Manager (PRM) and The Hub which includes a mobile platform and dedicated website for each group.
"It's a very exciting time," explains Charles de Gaspe Beaubien, President and CEO of Groupize . "We are finding many hotels are now making the commitment to improve the experience of booking groups at their hotels. Our GBE will allow our partners to capitalize on this profitable customer base, meet the demands of millenial travelers, ease the RFP lead fatigue on sales managers and reduce costly dependencies on 3rd parties."
To view an online demo of the Groupize GBE, CLICK HERE or to set up a live demo, call 1.855.GROUPIZE.
###
About Groupize Solutions:
Groupize Solutions is passionate about solving the small to mid-size group booking dilemma for hoteliers and planners. Through the development and delivery of a highly intuitive group booking platform, Groupize Solutions empowers hotels to win and manage more group business thus delivering better service and ultimately increasing hotel revenues. Our innovative technology solution automates all tasks involved with booking group business online and simplifies the process for occasional and professional planners. Groupize Solutions is the proud winner of the 2013 PhoCusWright Award for most Innovative Travel Technology Company (Emerging Category).