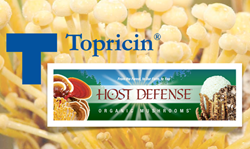 Host Defense supplements are a perfect complement to Topical BioMedics' Topricin healing technology as they utilize natural ingredients, promote a healthy lifestyle, and contribute to a sustainable healthcare model
Rhinebeck, NY (PRWEB) January 14, 2015
Topical BioMedics, Inc., headquartered in Rhinebeck, NY, announces it is now offering customers Host Defense® Organic Mushroom Supplements from Host Defense, Olympia, Washington. Along with its line of safe, natural Topricin Pain Relief and Healing Cream formulas, the company now features six different Host Defense Organic Mushroom capsules that support natural immunity*:
--Breathe (healthy respiratory support*)
--Cordyceps (energy support*)
--Lion's Mane (memory and nerve support*)
--Maitake (helps maintain healthy blood sugar levels*)
--MyCommunity (comprehensive immune support*)
--Turkey Tail (immune support*)
Founded by Paul Stamets, renowned mycologist and author, Host Defense is a family-owned, environmentally-friendly company specializing in using gourmet and functional food mushrooms to improve the health of the planet and its people. Host Defense Mushroom Capsules are made with Certified Organic, freeze-dried, non-GMO mushroom mycelium/fruitbodies, encased in a plant-based capsule made from pullulan. Pullulan, a non-GMO, naturally-fermented polysaccharide polymer, is starch-free, gluten-free, and preservative-free. Pullulan capsules are known for their high-oxygen impermeability, which is particularly advantageous to the encapsulation of products that may be sensitive to oxidation. The products are sustainably cultivated, grown and processed in the U.S.A., are Bee Friendly™, and backed by scientific research.
"We are honored to be partnering with Host Defense, and are delighted to be able to offer their excellent products to our customers," says Lou Paradise, Topical BioMedics' president and chief of research. "Our corporate missions are in complete alignment, and Host Defense supplements are a perfect complement to our Topricin healing technology as they utilize natural ingredients, promote a healthy lifestyle, and contribute to a and sustainable healthcare model. And—like Topricin—Host Defense products are chosen by physicians, naturopaths, and other practitioners for efficacy with their patients."
For more information, visit http://www.topricin.com.
ABOUT HOST DEFENSE
In business since 1980, Host Defense is a family-owned, environmentally-friendly company specializing in using gourmet and functional food mushrooms to improve the health of the planet and its people. The company is on a global mission to:
--work with doctors skilled in integrative medicine to augment conventional therapies;
--Spread the knowledge of growing mushrooms for food by recycling local resources;
--protect biodiversity of fungi—mycodiversity—and the plants and animals dependent upon fungi;
--Develop mycofiltration methods to clean water using mycelium;
--Invest in mycoremediation technologies to break down or neutralize toxic wastes;
--Replace toxic pesticides with natural-based, non-toxic, non-invasive mycoremedies;
--Build richer soils to support plant and animal foodwebs, aiding permaculture and farm practices;
--help in the recovery and management of forests using beneficial fungi;
--Encourage research using mycelium in combination with bacteria for developing biofuel feedstocks;
--Financially support mycological research by funding graduate students studying forest mycology.
ABOUT TOPICAL BIOMEDICS:
20 years in business and a Certified B Corporation, Topical BioMedics is a research and development leader in topical patented natural biomedicines for pain relief. The company's flagship product, Topricin® Pain Relief and Healing Cream, was introduced in 1994 and is now a leading natural therapeutic brand. A combination biomedicine formula, Topricin has been awarded a patent for the treatment of pain associated with fibromyalgia and neuropathy, and was listed among the Top 100 Green Products of 2012 by Healthy Holistic Living.
The Topricin family of natural healing products also includes Topricin Foot Therapy Cream, specially formulated to treat painful foot and ankle issues and conditions, and Topricin for Children, which received the Parent Tested Parent Approved Seal of Approval (with 5% of sales donated to pediatric cancer foundations). Made in the U.S.A., all Topricin products are federally-regulated over-the-counter medicines with no known side effects, no parabens, petroleum, or other harsh chemicals, no grease, and no odor.
For over 20 years, the company has assisted hundreds of thousands of people suffering with pain and those addicted to painkillers to achieve fully restored and robust healthy living. Unfortunately, millions of people continue to suffer in pain, with many experiencing the hazardous side effects of OTC chemical pain pills or negative effects of narcotic Rx painkillers—an epidemic that turns the lives of American families upside down and is undermining the very fabric of our country.
Topical BioMedics now offers TopTrack, a new app for on-the-go pain tracking and monitoring. TopTrack is available free of charge for iPad via the App Store, and will roll out on additional devices in the coming months. https://www.youtube.com/watch?v=ysj3CE6auDg
Topricin is available in independent pharmacies, natural food and co-op stores nationwide, including Whole Foods, Sprouts, Pharmaca, The Vitamin Shoppe, Fred Meyer, Wegmans, CVS (Foot Care Section), Walgreens (Diabetic Section), and other fine retailers, as well as directly from the company.
For more information visit http://www.topricin.com
*These statements have not been evaluated by the Food and Drug Administration. These products are not intended to diagnose, treat, cure or prevent any disease. For educational purposes only.