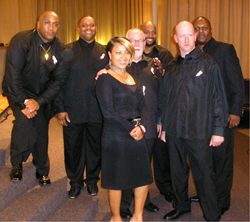 Cumberland, MD (PRWEB) January 14, 2015
Music performances by tri-state area ensembles will play a large role in the celebration of Dr. Martin Luther King Jr.'s legacy to be held Monday [Jan. 19] at Allegany College of Maryland.
"Building the Community That Empowers Us," which begins at 7 p.m. in ACM's College Center Zimmer Theatre, is co-hosted by Allegany County Branch of the NAACP and ACM's Democracy Commitment.
The New Chapter Gospel Band, Metropolitan AME Church choir and Fort Hill High School Show Choir will all perform at the event, which is free and open to the public.
Other features on the observance of the civil rights leader's birthday include a dramatic reading of King's "I Have a Dream" speech. Pastor Darin Mency, senior pastor of Hagerstown's Great Campher Temple King's Apostle Church, will give the presentation.
Also on the program is Nichelle Newsome, a Frostburg State University mass communications graduate and Viacom senior associate producer who has worked at the broadcast company's BET and Centric divisions.
The celebration features installation of the executive board for the local branch of the National Association for the Advancement of Colored People. Its newly elected officers are Carmen B. Jackson, president; Darrell Lee Powell, vice president; Dr. Joy Kroeger-Mappes, secretary; and the Rev. John Martin.
ACM's NAACP Club is assisting the college's Democracy Commitment, which promotes active engagement in the democratic process by community college students, in co-hosting the King legacy observance with the NAACP branch.
More information about the event is available at http://www.allegany.edu or by contacting Lynn Bowman, ACM associate professor English and speech and NAACP club advisor, at 301-784-5258.