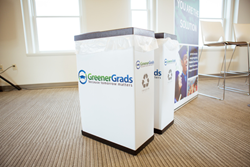 We are thrilled to have an entire state believe in our mission and support our efforts to help recover products that would otherwise end up in local landfills
Oregon (PRWEB) January 15, 2015
Greener Grads, a national graduation sustainability initiative launched in April 2014 in Michigan, will expand into Oregon early 2015 through a partnership with Oregon Green Schools, a nonprofit organization that spearheads sustainability efforts across the state, to recover, reuse and repurpose high school graduation gowns from 34 participating schools, reducing landfill waste by thousands of pounds.
"We are thrilled to have an entire state believe in our mission and support our efforts to help recover products that would otherwise end up in local landfills," said Seth Yon, Greener Grads founder. "Oregon Green Schools' commitment will help us accelerate our rental-reuse model and reach our goal of collecting one million gowns by the end of 2015."
In spring 2014 Greener Grads partnered with the Environmental Center in Bend, Oregon and is now expanding operations on a statewide level with Oregon Green Schools. This partnership is very unique in that it is the first Green Schools program to be implemented statewide. Greener Grads is looking to collect 5,000 or more gowns from Oregon high schools during spring 2015 commencements. This collection will equate to keeping 4,000 pounds of polyester out of Oregon landfills.
"At Oregon Green Schools we understand how important sustainability and conservation efforts are. We are thrilled to be able to help make a difference and support the Greener Grads mission," said Jackie Wilson, Oregon Green Schools coordinator. "We are looking forward to seeing how many gowns we can recover during spring graduations, statewide."
The mission of Oregon Green Schools is to help K-12 schools engage students in the understanding and ownership of sustainability. The nonprofit has 25 regional coordinators throughout the state that help to conduct waste audits and provide guidance and training for new sustainability programs in green schools. The organization seeks to help Oregon schools make a difference in their communities through saving energy, conserving water, recycling and reducing waste.
"This is a great opportunity for schools to recognize and recover nontraditional recycling goods (high school cap and gowns). I am hoping this new partnership will inspire students and staff to think about what could be next in sustainability measures," said Yon.
For more information about Greener Grads, please visit: http://www.greenergrads.org or view the story behind Greener Grads: http://bit.ly/greenergrads
###
About Greener Grads:
The Greener Grads story begins in the brain of Seth Yon, a former employee of a graduation industry giant who wanted to utilize his unique skill set to make the world a better place. After 11 years with the company and delivering a career volume of over $9 million of product, Seth decided to take his vast knowledge of the industry and form Michigan Grads, a West Michigan-based company focused on offering students and their families environmentally friendly graduation products at a more affordable price.
Now with the launch of Greener Grads, Seth introduces a clever way to repurpose, re-use and recycle, shifting his focus to a wider audience and moving one step closer to becoming an environmentally-conscience leader in the graduation industry. To Seth, Greener Grads isn't about getting rich: "It's about getting it right. If I can be part of a small change, then I want to do that. Every gown counts."
About Oregon Green Schools:
Oregon Green School is dedicated to energizing and engaging students through student-driven activities that advance their understanding and ownership of sustainability.