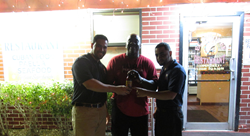 Amazing, absolutely amazing!
Key West, FL (PRWEB) January 15, 2015
In August of 2014, the Defense Commissary Agency (DeCA) welcomed J. Lee's Gourmet BBQ Sauce to 66 stores throughout the central and southeastern United States, spanning 18 states. DeCA stores are military installation grocery stores, with one located on every military installation worldwide. The sauce that's sweeping the nation was bottled only a year at the time DeCA welcomed the product to 66 locations. J. Lee's sold miraculously well at every location. Racing against time and the elements of nature and winter, the team visited the more northern states first and worked their way south, culminating in Florida.
Residing in Bilioxi, Mississippi, TST routinely reached out to most of the closer military bases. But hard work and dedication allowed the team to personally introduced J. Lee's Gourmet BBQ Sauce as far north as Michigan, and as far south as what's referred to as the panhandle portion of Florida. The more southern locations were left for the finale. And what a finale… 516 bottles sold in 16 total hours through four locations. TST traveled over 2,000 highway miles and the final destination Key West, Florida, did not disappoint. Customers purchased 90 bottles of J. Lee's Gourmet BBQ Sauce in 2.5 hours.
The United States most southern point is dominated by vacation travelers on cruise ships, RV's and retired military members who were thrilled that the sauce doesn't need refrigeration even after opening since their storage space is limited. "Amazing, absolutely amazing", was continuously echoed as customers sampled the sauce that reads "A Taste All Families Love" and "Put It On Anything". Sauce founder, Mr. James Lee and Public Relations Manager, Mr. Curtis Jennings treated Key West vacationers from as far as British Columbia and Montreal, Canada; Seattle, Washington, local residents, and the management of the Cuban restaurant El Sobonney, to taste the sauce with their meals. They raved over the quality smell, taste, versatility, and thick texture of J. Lee's Gourmet BBQ Sauce. To learn more visit: http://www.jleessauce.com.