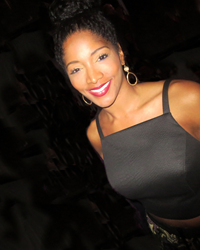 Chicago (PRWEB) January 14, 2015
Actress Noree Victoria will appear in one of this year's most highly anticipated television films, "Whitney," on Saturday, January 17 at 8 PM EST/7 PM CST, on Lifetime. The film details the extraordinary life of Whitney Houston and her turbulent marriage to singer Bobby Brown. The story is told through the vision of Golden Globe Award winner and Academy Award nominee Angela Bassett, in her directorial debut. Noree plays the role of Sheryl, an associate of Bobby Brown.
Noree will appear alongside actress Yaya DaCosta, who stars as Whitney, and actor Arlen Escarpeta, playing Bobby Brown. Houston's hit songs featured in the film are sung by Grammy®-nominated and multiplatinum-selling soul singer Deborah Cox.
"Ms. Whitney Houston was one of the greatest artists of our time. Her story is definitely one that begs to be told—music history is incomplete without it. And with the direction and vision of Angela Bassett, I believe that our audiences won't be disappointed," Noree said.
Bassett makes her directorial debut as the creative mind behind the lens in which Houston's life is portrayed. Noree stated, "Angela is so very passionate, and patient, and visual and hands-on. She has a sensual style of directing that's both fierce and compassionate. I watched her on set, and saw that she let every character live within her. That's not easy to do. I'm both proud of her, and honored, to have had my craft in her care."
Noree will also debut in the long-awaited film "The Choice," based on the New York Times best-selling author Nicholas Sparks' novel of the same name. Noree will be playing the character, Liz, who is a part of a close group of married friends.
Check your local listings for specific viewing times of "Whitney."
Media contact: Robin Beaman | 312-208-1212 | rbeaman(at)beamaninc(dot)com
*Updated 1/16/15 4:05 ET