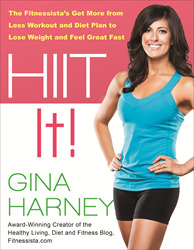 Using HIIT—high intensity interval training—Gina proves that getting in shape doesn't have to consume your daily life.
New York, NY (PRWEB) January 21, 2015
Gina Harney, creator of the award-winning healthy living, diet, and fitness blog, Fitnessista.com, helps people work smarter, not harder, with one of the most effective fitness trends of the moment--HIIT, high intensity interval training.
In Gina's highly anticipated workout and diet guide, "HIIT It!," she proves that getting in shape doesn't have to consume a person's daily life. HIIT helps maximize workouts in order to make a sustainable lifestyle change even with the busiest of schedules.
"Start small and build up from there," coaches Gina. "It's easy to get overwhelmed and try to make a bunch of changes at once; it's a quick way to burn out. Pick one goal to go after and once you achieve that weekly goal, try a new small one to add on the following week."
Gina doesn't only favor HIIT when it comes to working out--she's also adapted the HIIT principles as part of a balanced and nutritious diet plan:
"High Intensity Interval Training refers to difficult work intervals mixed with periods of rest," explains Gina. "By doing so, you elevate your heart rate, burn a ton of calories, and boost power and fitness gains in an efficient matter. I took the HIIT acronym, and created this phrase, "Healthy Intermittent and Intuitive Tracked meals." With a HIIT style of eating, you still have your "work" intervals (creating your meal plans and prepping your food), but after that point, you're able to reap the rewards during the rest period. By preparing yourself for success, you're able to make healthy diet choices all week."
With a focus on short, effective workouts and simple, tasty nutrient-dense meals and snacks, Gina's upbeat and humorous advice helps make lasting lifestyle changes to keep people looking great and feeling amazing.
Get a total body workout or tone-up a target area with Gina's easy cardio and strength training routines—each lasting 30 minutes or less. With quick workouts and mouth-watering, healthy recipes for every meal of the day, Gina will help anyone make personalized lifestyle changes that fit their unique schedule, including:

Everything a beginner needs to know about HIIT training, including the best workouts for people just getting started and a helpful review of muscle groups to help maximize strength training
How to stock the kitchen to make clean eating simple and convenient, including grocery list staples and why weekly meal prep is the way to go
Recipes and tips for creating satisfying meals and snacks, including the best pre- and post-workout fuel and how to "health-ify" favorite sweet treats
How to take a fitness routine on vacation with easy hotel room workouts and tips for maintaining a balanced diet while traveling
Fun (and delicious) ways to change up a workout and diet plan to stay motivated and avoid plateaus
Gina Harney is the award-winning creator of the healthy living, diet, and fitness blog, Fitnessista.com, which has been featured as a top blog in Fitness and Shape. She is an AFAA certified fitness instructor, NASM certified personal trainer and weight-loss specialist, yoga enthusiast, military wife, and new mom. Harney graduated from the prestigious 105degrees Academy (Matthew Kenney Santa Monica) as a Level One Raw Foods Chef with a strong passion for developing delicious and nutrient-dense meals. As part of Sage Dance Fitness, she released her first full-length DVD, Soli Beat. She lives in San Diego, California.
At Demos Health, we strive to publish books and information that will lead readers to better health. We provide top content from experts in their fields and offer insight to those who want to live well with disabilities or chronic illness, provide informed support for loved ones with health concerns, and improve their daily lives with smart approaches to diet and fitness.