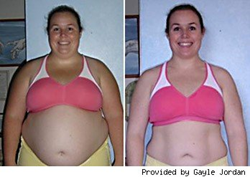 Patients report amazing results when enhancing their tailor made meal and snack plans with powerful Appetite Zap to burn fat 4X faster than other diet products.
Los Angeles, CA (PRWEB) January 15, 2015
More and more people throughout the country are turning to Diet Doc's all-inclusive weight loss programs and reporting staggering weight loss success when enhancing their customized meal and snack plans with Diet Doc's Appetite Zap. Patients report the rapid loss of pounds and inches in the hard to reach places, such as the belly, hips, thighs and buttocks within days of beginning the diet plans. In fact, in a recent in-house survey of over 20,000 actual Diet Doc clients, weight loss of 20 pounds or more per month is reported for those who added Appetite Zap to their daily regimen.
Diet Doc offers all-inclusive diet plans that include a staff of specially trained fast weight loss professionals, including doctors, nurses, nutritionists and coaches, who follow their patient's progress until the last ounce of unwanted fat has been burned from their body. And, because their patients are given unlimited access to their expert weight loss team, boredom, confusion and loss of interest are eliminated.
Operating on the premise that everyone deserves to live a healthy, active life without the embarrassment and burden of carrying excess weight, the company continues their research to bring the most advanced, up to date and modern weight loss methods to their clients. And because they understand that eliminating carbohydrates can be difficult, the company enhances their nutritionist-designed meal and snack plans with powerful appetite suppressants, diet pills, prescription hormone treatments and fat burners, allowing their patients to comfortably and rapidly lose unwanted weight without between meal hunger, food cravings or fatigue.
Diet Doc recently introduced Appetite Zap to their already impressive collection of diet products and healthy living supplements. When used in conjunction with their strategically designed and personalized meal and snack plans, this powerful fat burner eliminates fat four times faster than other diet products. Patients nationwide are celebrating improved health and slimmer, sexier bodies by enhancing their diet plans with the amazing Appetite Zap fat burner.
As the body ages, many noticeable changes occur. Women typically begin accumulating excess fat at the onset of menopause while men may develop a beer belly during mid-life. Many of these changes occur because the metabolism slows, calories are not burned as quickly and activity levels decline. Excess calories become stored as excess fat, typically gathering in the hips, thighs, belly and buttocks. And because Diet Doc believes that excess weight should not prevent anyone from enjoying good health, regardless of their age, they incorporated the powerful Appetite Zap to their stable of diet products.
Qualified patients will receive prescriptions for Diet Doc's hormone treatments, diet pills and Appetite Zap, enabling them to see fat melting from their body four times faster than other diet products. This powerful combination intensifies the body's ability to target, attack and release old, stored fat into the bloodstream to be quickly burned and flushed from the system.
Because of the special formulation of Appetite Zap, patients who have added this powerful suppressant to their diet programs report:

Increased energy and improved immune system;
Increased libido and sex drive;
Improved mood;
Relief of menstrual cramps, hot flashes, anxiety, mood swing and depression;
Increased memory and mental acuity;
An overall feeling of wellbeing.
Diet Doc has earned its reputation by delivering natural, safe and fast weight loss to clients in every region of the country and urge those who have struggled to lose excess fat unsuccessfully to call today.
About the Company:
Diet Doc Weight Loss is the nation's leader in medical, weight loss offering a full line of prescription medication, doctor, nurse and nutritional coaching support. For over a decade, Diet Doc has produced a sophisticated, doctor designed weight loss program that addresses each individual specific health need to promote fast, safe and long term weight loss.
Diet Doc Contact Information:
Providing care across the USA
Headquarters:
San Diego, CA
(888) 934-4451
Info(at)DietDoc(dot)info
http://www.dietdoc.com
Twitter: https://twitter.com/DietDocMedical
Facebook: DietDocMedicalWeightLoss