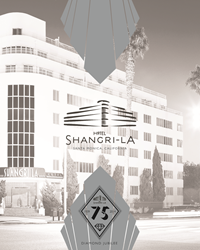 O.S.S historian Erick Simmel will share the hotel's history and its significant relationship with the U.S. military.
Santa Monica, CA (PRWEB) January 14, 2015
WHAT:
Hotel Shangri-la is commencing a yearlong series of historic events in honor of its 75th anniversary and the role it played in the formation the classified Commando Office of Security Services (O.S.S) Maritime Unit. The O.S.S. was the United States' first covert espionage organization for secret, unorthodox overseas wartime operations. Hotel Shangri-la was taken over by the Department of War during WWII and used for rest and recreation for American troops. The celebratory event will pay tribute to America's fighting men and women from WWII with top military members from the U. S, England and Canada in attendance to salute members and relatives of the original O.S.S. Maritime Unit. O.S.S historian Erick Simmel will share the hotel's history and its significant relationship with the U.S. military.
Hotel Owner Tamie Adaya will also launch her newly published Hotel Shangri-la diamond anniversary book that includes previously untold stories about great political figures, local heroes and others who have used the property to make history. Cocktail reception, program and entertainment.
WHEN:
Saturday, January 17, 2015
5:00 pm program
WHO:
O.S.S. Historian Erick Simmel
Hotel Shangri-la Owner and Author Tamie Adaya
Top U.S. military members and relatives
Entertainment by The Satin Dollz
WHERE:
Hotel Shangri-la at The Ocean, Courtyard
1301 Ocean Avenue, Santa Monica, CA 90401
INTERVIEWS:
Erick Simmel, O.S.S. Historian
Tamie Adaya, Hotel Shangri-la
MEDIA
CONTACT:
Agnes Huff, Agnes Huff Communications
310-902-8131 or ahuff(at)ahuffgroup(dot)com
NOTE TO
MEDIA:
Journalists interested in attending this invitation only event should contact the media representative.
BACKGROUND:
In the summer of 1940, only months after the then Shangri-la Apartment Hotel had opened for business, Col. William J "Wild Bill" Donovan, the future director of the O.S.S., was a guest at the iconic Santa Monica property. On site, he reconnected with local dentist and waterman, Dr. Jack H Taylor. Through Taylor, Donovan was introduced to the aquatic skills of several local Santa Monica lifeguards who had invented and perfected new underwater gear. Deeply impressed, the energized Donovan conferred with Taylor at the Shangri-la. The end result was the initial stages in formulating the development of O.S.S. Maritime Unit, which included top-secret training in local waters. Naval historians cite the meetings between Donovan and Taylor at the Shangrila as being the genesis of the Navy Seal's program which was founded in l962.