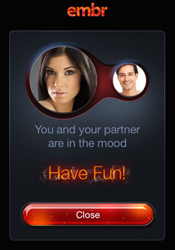 We want to inspire better relationships through communication.
(PRWEB) January 15, 2015
A new app called EMBR by Spruce Fir and Pine, Inc. takes the guesswork out of meeting up for romantic liaisons. The app is available for free on the iTunes App Store.
Designed for couples already in relationships, EMBR shows each user their one and only partner. The main screen instructs the user to swipe right if he or she is "in the mood". If the user's partner also happens to swipe right in the next 44 minutes, both are sent a notification.
Because no message is sent between partners unless both have already indicated they are in the mood, there is no pressure or need to reply with an explicit rejection. But if the match is made, the app cheers users on with a "Have Fun!" message and triumphant music (which can be muted to avoid drawing too much attention).
EMBR uses Facebook credentials for logging in, but does not post to the social media site. Users can add a new partner only after deleting the current partner. A tutorial slideshow provides complete instructions.
Co-creators Alex Shapiro, Jonathan Ohliger, and Hemanshu Nigam drew inspiration for the app from their personal lives.
"The idea for EMBR came from some of the things I had noticed in my own relationship," said Shapiro. "It's a simple solution that only became possible when everyone started living with a smartphone."
"There are just so many apps out there based upon dating and hooking up," said Ohliger. "With EMBR we really wanted to focus on encouraging couples to optimize and enjoy each others' company."
"We want to inspire better relationships through better communication," said Nigam. "In future versions, we plan to include reports on when partners are in the mood so they can 'coordinate' better."
EMBR was developed for Spruce Fir and Pine, Inc. by Zco Corporation, one of the largest app development companies in the world.
About the Developer
Zco Corporation is a tried-and-true software development company that has been living and breathing technology for over 25 years. A proven and reliable vendor choice, Zco is passionate in its mission to create attractive, resilient products for its clients. Its powerhouse team, one of the largest in the world, was handpicked for specialties in mobile app development, enterprise software, and animation services. To learn more, visit Zco.com or call 603.881.9200.