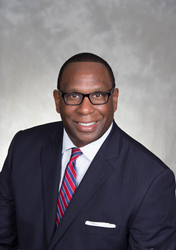 Roger's extensive knowledge and relationships in the public sector, deep commitment to and understanding of supplier diversity programs, and successful track record in the community make him a great fit for us
Houston, TX (PRWEB) January 15, 2015
Turner Construction Company is pleased to announce that Roger Harris has joined the company's office in Houston as director of business development.
In addition to taking the lead on expanding Turner's presence in the Houston market, Harris will bring more than 25 years of experience working strategically with minority- and women-owned firms to Turner's supplier diversity and community outreach initiatives.
"We are excited to have Roger join our Houston Team. His extensive knowledge and relationships in the public sector, deep commitment to and understanding of supplier diversity programs, and successful track record in the community make him a great fit for us," said Mike Kaiman, vice president. He continued, "The addition of Roger to the Turner family is another demonstration of our commitment to increasing our business presence as well as our social investment in the Houston market."
Prior to joining Turner, Harris led the start-up of the Houston MBDA Business Center operated by Houston Community College, an organization – funded by the United States Department of Commerce – that helps minority-owned enterprises increase access to contracts, capital, and global markets. Under his leadership, the Center was able to achieve an outstanding rating in its first year of operation.
Harris also served four years as External Affairs Manager for the City of Houston Office of Business Opportunity, where he led strategic educational and outreach initiatives for more than 2,200 certified minority- and women-owned business enterprises (MWBEs).
"Having had a long and rewarding career in the public sector, I look forward to utilizing my skills and relationships to help Turner increase its footprint in the Houston market. I am particularly pleased with Tuner's commitment to supplier diversity and my role to help advance it as a part of our business brand," said Harris.
Harris holds a Bachelors of Business Administration-Finance degree from the University of Houston-Downtown and is a NASBITE International certified global business professional. He serves on the board of Lone Star State Capital Corporation.
About Turner Construction Company
Turner is a North America-based, international construction services company. Founded in 1902, Turner first made its mark on the industry pioneering the use of steel-reinforced concrete for general building, which enabled the company to deliver safer, stronger, and more efficient buildings to clients. The company continues to embrace emerging technologies and offers an increasingly diverse set of services. With an annual construction volume of $10 billion, Turner is the largest builder in the United States, ranking first in the major market segments of the building construction field, including healthcare, education, sports, commercial, and green building. The firm is a subsidiary of HOCHTIEF, one of the world's leading international construction service providers. For more information please visit http://www.turnerconstruction.com.