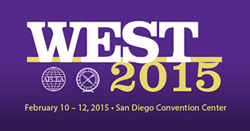 (PRWEB) January 14, 2015
Activu Corporation will demonstrate its proven approach to video wall visualization and collaboration solutions for mission critical federal and defense organizations in Booth 2240 at AFCEA West 2015. The premier event for showcasing emerging systems, platforms, technologies and networks, AFCEA West 2015 will take place February 10-12, 2015 at the San Diego Convention Center.
A pioneering innovator in the development of IP-networked, software-based collaborative visualization systems for the federal and defense industries, Activu designs, builds, installs and supports visualization and collaboration systems used by mission critical command and control centers as well as joint intelligence, cyber operations and similar environments. Activu's sole focus: enabling mission critical operations to manage and share information while increasing the speed and accuracy of critical decision-making.
The need to easily share information is paramount to effective communications and true situational awareness and situational understanding. With Activu's software, Mission Command can dynamically display and distribute visual information (video, data, images, text, proprietary applications, etc.) on command center video display walls, on mobile screens, at local sites, between sites and in the field. These dynamic visuals result in a user-defined operational picture (UDOP) or common operational picture (COP) that significantly improves situational awareness and understanding, mission-critical decision-making and response levels.
Attendees at the show will have an opportunity to learn about Activu's ability to support virtual environments (VMware®), a feature of the upcoming Activu Enterprise Software Suite Version 5.3 release. The virtualization component will allow Activu servers to be backed up quickly, migrated live to new hardware during a failover event all while maintaining continuous availability and control of sources and displays. Sources will be able to be provisioned and enabled quickly to support new applications or scale to support new operational requirements. User desktops will be offered as a service (DaaS) according to real-time needs, without the need to allocate hardware resources in advance – providing the flexibility to IT departments to manage capital expenses and support manpower requirements more effectively without affecting performance service to users.
About Activu
More than video wall systems, Activu delivers scalable, network-based visualization solutions that provide situational awareness and collaboration to support informed decision-making and improved operations in the control room and throughout the organization. By delivering information when and where it is needed, Activu allows users to manage visual information across the organization, whether it is on a command and control center video wall, conference room display, user desktop or a mobile device. Activu's secure, software-based systems are flexible, tailored to the unique needs of the organization and fully-integrated with existing infrastructure and network. For more information, visit http://www.activu.com.