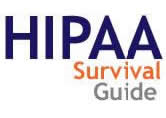 Tampa, Florida (PRWEB) January 15, 2015
3Lions Publishing, Inc., the owner/operator of the HIPAA Survival Guide, is pleased to announce release 1.0 of its HIPAA Audit Preparation Training Module. Available on the HIPAA Survival Guide Store, this module walks organizations through eliminating the guess work when preparing for an audit. It provides comprehensive coverage regarding what the Department of Health and Human Services may require should it launch a HIPAA audit. It also provides a methodology for addressing the "big picture" questions that may provoke the "deer in the headlights" look for the unprepared organization.
Release 1.0 provides video based training that can be used to educate HIPAA Privacy and Security officers, as well as the executive team. It provides the kind of training that those in the "hot seat" need in order to prepare effectively for the rigors of an audit. HIPAA Survival Guide products provide a methodology ensuring detailed coverage of the 169 requirements that the Department of Health and Human Services identified in its audit protocol.
Carlos Leyva, creator of the HIPAA Survival Guide, says: "We continue to innovate with release 1.0 of the HIPAA Audit Preparation Training Module. This offering provides an out-of-the-box product that helps covered entities and business associates understand what is required of them to comply with the HIPAA regulations. Our product is 'swipe and go' priced to be economically affordable for healthcare stakeholders of all sizes, industry wide. The product is also being offered free to existing subscribers, but may be purchased as a stand-alone offering at our store."
New HIPAA regulations and the HITECH Act require HIPAA covered entities and their business associates to adequately safeguard a patient's protected health information or risk potentially significant fines from the Department of Health and Human Services, lawsuits from state attorneys general and private actions brought under state law by individuals or via class actions. HIPAA Survival Guide provides both subscription-based and turnkey solutions which aid in following the HITECH Act and staying HIPAA Compliant.
About 3Lions Publishing, Inc.
3Lions Publishing, Inc. focuses on publishing online context sensitive content within well-defined subject matter domains, such as healthcare. 3Lions helps publishers leverage and monetize their content by providing a publishing platform that matches high quality content with an SEO centric set of audience development tools. 3Lions is based in the greater Tampa, FL area. To learn more about 3Lions Publishing, Inc., visit its flagship site at http://www.hipaasurvivalguide.com.