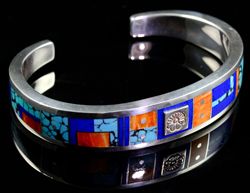 I fabricated my first ring out of silver for my Mother…I told my father, I want to make jewelry for the rest of my life."
Durango, CO (PRWEB) January 15, 2015
Sorrel Sky Gallery welcomes Ray Tracey - one of today's most recognized contemporary Native American jewelry artist – for two shows in February. Tracey and a showcase of his work will be in the Durango gallery on Thursday, February 5 from 5 – 7:00 p.m. during First Thursday ArtWalk and on Friday, February 6 from 5 – 7 p.m. during First Friday Art Walk in Santa Fe, NM.
Born and raised in Arizona, Tracey was influenced by his grandfather who worked the goat bellows to fuel the fire in the forge to melt silver for crafting jewelry. One summer his mother enrolled him in art class. He was 9 years old and on the first day of class he saw the silversmith table and all the stories his grandfather told him came back to him. Tracey says, "In class I fabricated my first ring out of silver for my Mother. I found an unknown stone and made a cabochon…I told my father, I want to make jewelry for the rest of my life."
Tracey attended Brigham Young University and studied chemistry and physics by day and jewelry making at night. His designs were simple, but his first love was Old Style Navajo jewelry. While at BYU he also discovered acting and has spent several years as an actor in feature films and television. But he lost interest in jewelry design. Ray's love of jewelry brought him back to New Mexico and where he concentrates full-time on his jewelry.
Shanan Campbell Wells, gallery owner says, "Ray is such a talented and creative man and I'm always amazed by his passion and commitment to his designs. It is a true honor to represent his work in our gallery."
Sorrel Sky Gallery's fresh approach to Western art presents a select collection of contemporary and traditional fine art and jewelry for the discerning collector. Sorrel Sky Gallery was founded in Durango, CO in 2002 and opened its Santa Fe, NM location in 2013. It represents over 60 painters, sculptors and jewelers including bronze artist Star Liana York, painter Billy Schenck, and former U.S. Senator Ben Nighthorse, among others.