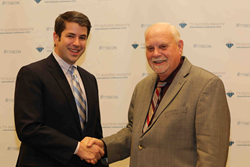 Scottsdale, Ariz., (PRWEB) January 15, 2015
More than 400 TTI Success Insights (TTI SI) network members gathered Jan. 9-12 to honor top performers and celebrate successes and innovation in talent discovery and development during the company's annual conference in Scottsdale.
"There was fresh energy added to old friendships during this conference. We are so excited about our future and our role integrating the Science of Self™ into the future of work," said Bill J. Bonnstetter, chairman and founder of Target Training International, Ltd. and TTI SI. "You could feel that spirit throughout the conference and for that I am very grateful — and I'm very energized."
Network members representing 13 countries gathered with the TTI SI team to mark the highest attended and most successful conference in company history. Attendees discovered insights about new and enhanced talent products, including a:

New approach to the future of work and talent from keynote speaker Shawn Kent Hayashi
Modified motivators assessment
New stress assessment
Modified 25 competencies assessment
New emphasis on understanding and leading Millennials
During #TTISICon 2015, which marked TTI SI's 26th annual conference, top honors were given to network members for success in business during 2014, including:
Value Added Associate of the Year: Jeb and Will Brooks (The Brooks Group)
Bill Brooks Impact Award: Carl Henry (Henry Associates)
Lifetime Achievement Award: Russ Watson (Target Consultants, Inc.)
Contributor of the Year: Shandel Sutherland (The Chandelle Group)
Rookie of the Year: Rico Pena (Pena Global LLC)
Research Partner of the Year: Sheri Smith (Intrinsic Genius Technologies)
Brand Ambassador: Chris Young (The Rainmaker Group)
TriMetrix HD User of the Year: TTI Success Insights Russia
Top Sales Based on Population: TTI Success Insights Sweden
Largest Volume Increase: TTI Success Insights France
Largest Percentage of Growth: TTI Success Insights United Kingdom
Branding Impact: TTI Success Insights Holland
Talent Insights User: TTI Success Insights Brazil
Distributor of the Year: TTI Success Insights Germany
Highlights from conference events were live tweeted using #TTISICon and posted on the conference website, http://www.ttisicon.com. #TTISICon 2016, taking place Jan. 8-10, 2016, will be hosted at The Scottsdale Plaza Resort in the heart of central Scottsdale.