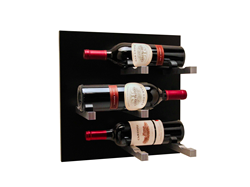 'Wine As Art is the answer to wine storage that is trending towards more contemporary, display orientated design styles' says Robert Bass, president of Kessick Wine Cellars.
Greenville, SC (PRWEB) January 15, 2015
Polished metal hardware cantilevers off a veneered panel, cradling wine bottles in a format that showcases the wine labels, creating an interesting aesthetic appearance. Not unlike a piece of artwork.
Hardware styles include:

Round, square and diamond shaped posts stores and displays wine on cantilevered hardware that showcases wine 'label forward'. The ¾" metal post has a generous profile designed to securely hold each individual wine bottle. Available in single, double and triple deep storage.
The 'Wine Knot' stores and displays wine bottles by securely gripping the neck of the wine bottle. The cantilevered bottle displays the label of the wine for a unique visual presentation that resembles a modern 'Riddling Rack'.
The Peg hardware stores and displays wine on cantilevered peg hardware that showcases wine bottles neck out. The 1/2" polished aluminum peg is designed with a pair of strategically placed O-rings to cushion and grip both common types of red and white wine bottles.
Materials and finishes include brushed and polished aluminum; powder coated oil-rubbed bronze and black colors and stainless steel.
Wine Art hardware is available as:

Hardware only, to be mounted to a panel substrate 'by other'.
The 'Axcent' line of designed and engineered Wine As Art wall panel systems available for resale/retail.
Full custom designs in a broad spectrum of panel veneers, laminates and materials. Comprehensive consultation and design services provided to the trade, designers and architects.
Kessick Wine Cellars are designers and manufacturers of exceptional quality wine cabinetry, racking and hardware. KWC manufactures a unique line of box construction wine cellar racking and cabinets that are shipped fully assembled. Products are sold wholesale 'to the trades' and are not sold direct or online. Kessick Wine Cellars has been in business since 2004 and sells internationally through a network of dealers and re-sellers.