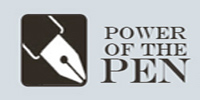 Willoughby, Ohio (PRWEB) January 15, 2015
On January 24th, Andrews Osborne Academy (AOA) will be hosting over 200 students from 17 area schools participating in the Ohio Power of the Pen writing competition. The competition, now in its 30th year, is an educational enhancement program devoted to excellence in creative writing.
Schools can enter teams of six students each from 7th and 8th grade. The students are assigned to three different rounds of writing where they are given a prompt and have 40 minutes to respond to that prompt. The writings are judged and awards are presented to the top teams and to the top individuals in the competition. Contestants will qualify for the regional competition by placing in the top 50% at the district competition and have the possibility of advancing to the state tournament.
The competition is coordinated by Andrews Osborne Academy's Middle School Language Arts Teacher, Mrs. Lynne Ely, and the Power of the Pen state committee. "AOA is delighted to once again host the district tournament. Power of the Pen provides middle school students with a unique opportunity to be creative and competitive. Students love Power of the Pen because it releases their imagination." says Ely.
The judges include the writing coaches from competing schools, as well as Marina Vladova, AOA English Department Head, Addie Hopes, English instructor at Ursuline College, Adam Stier, English professor at Lake Erie College, Alex Frissell, English professor at Lake Erie College, Nicole Robinson, Outreach Director Wick Poetry Center at Kent State University and Elliott Ladd, recent college graduate and English major.
Andrews Osborne Academy (AOA) is an independent, coeducational, college preparatory day (grades Pre-Kindergarten through 12th) and boarding (grades 7-12) school near Cleveland, on a 300 acre campus located in Willoughby, Ohio. Our Academy offers elementary, middle and secondary education to committed students in a multicultural setting. Contact the Office of Admission to arrange a tour at 440-942-3600.