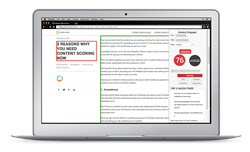 Content scoring and the ability to create quality content consistently before you hit publish
Toronto, Ontario (PRWEB) January 15, 2015
Atomic Reach, one of the 20 most innovative companies in Canada as named by the Canadian Innovation Exchange, today announces the release of the Atomic App for Chrome.
Now, creating quality content is even easier with the best-in-class content scoring platform.
"Wow, I thought the Atomic App for CMS was a gigantic leap forward for content creators" says Ira Haberman, Director of Marketing, Atomic Reach, "but now you won't have to be locked in a CMS to take advantage of what the Atomic App is built for. Content scoring and the ability to create quality content consistently before you hit publish."
The Atomic App for Chrome scores and edits blog content, emails and more. The content's score is weighted based on a proprietary set of content and audience insights called the Atomic Measures.
The Atomic Measures provide a prescriptive diagnosis to help improve content and drive its score up before hitting publish. Feedback is provided in the Chrome extension under three buckets: structure, audience and linguistics.
Content creators of all description (bloggers, brands and publishers) can now access the advantages Atomic Reach and the Atomic App for Chrome provide.
For more information about the Atomic App for Chrome, click here.