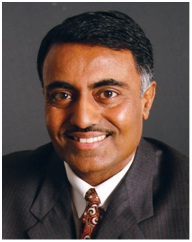 Los Angeles, CA (PRWEB) January 15, 2015
Lauding "continuous innovation" as a variation on the theme of "continuous improvement," Woodbury University's Satinder K. Dhiman, PhD., EdD, has called on graduate schools of business to redouble their commitment to creativity and change – and place students first.
Dr. Dhiman – Associate Dean of Woodbury's School of Business, Chair & Director of the MBA Program, and Professor of Management – recently inaugurated the fourth international conference on Management Education at Justice KS Hegde Institute of Management at Nitte in Udupi, India.
"From admission to curriculum development, business schools should follow the 'learner-centered' approach," Dr. Dhiman said. Learner- (or student-) centered teaching places the student's interests first, zeroing in on abilities and learning styles, and treating the instructor as a facilitator.
Dr. Dhiman was also a Plenary Session speaker at the 13th Pravasi Bharatiya Divas (PBD) Convention, the flagship event of Ministry of Overseas Indian Affairs (MOIA), Government of India. The convention provides a platform to leaders of Indian origin to engage with the government and people of India, and as an important networking opportunity. As a distinguished invitee of the Ministry of External Affairs, Government of India, Dr. Dhiman addressed the delegates on the topic of "Soft Power in India's Globalization." Luminaries from 12 different nations were on hand at the conference, which celebrated the 100th year of Gandhi's return to India from South Africa.
With teaching and research focus on leadership and organizational behavior -- with specific concentration on workplace spirituality -- Dr. Dhiman holds a PhD. in Social Sciences from Tilburg University, Netherlands, an EdD in Organizational Leadership from Pepperdine University, Los Angeles, and a Master's degree in Commerce from Panjab University, Chandigarh, India, having earned the Gold Medal. He has also completed advanced Executive Leadership Programs at Harvard, Stanford, and Wharton. He is the recipient of the prestigious 2004 ACBSP International Teacher of the year Award and Steve Allen Excellence in Education Award, 2006.
Dhiman's work has been published in multiple journals and he has authored, co-authored, and co-edited ten books on management, accounting, and leadership. His recent book, Seven Habits of Highly Fulfilled People: Journey from Success to Significance (2012) is about transforming our search for success into a discovery of profound meaning and significance. Dr. Dhiman's forthcoming book Gandhi and Leadership (2015) explores the importance of Gandhi's leadership for modern world. In 2013, Dr. Dhiman was invited to be the opening speaker at the prestigious TEDx Conference @ College of the Canyons, in Southern California. Dr. Dhiman also serves as the President of International Chamber of Service Industry (ICSI).
About Woodbury University
Founded in 1884, Woodbury University is one of the oldest institutions of higher education in Southern California. Woodbury offers bachelor's degrees from the School of Architecture, School of Business, School of Media, Culture & Design, and College of Transdisciplinarity, along with a Master of Arts (MA) in Media for Social Justice, Master of Architecture (MArch), Master of Interior Architecture (MIA), Master of Science in Architecture (MSArch), and Master of Leadership. The San Diego campus offers Bachelor of Architecture and Master of Architecture degrees, as well as an MSArch degree with concentrations in Real Estate Development and Landscape + Urbanism. Woodbury ranks 15th among the nation's "25 Colleges That Add the Most Value," according to Money Magazine. Visit http://www.woodbury.edu for more information.