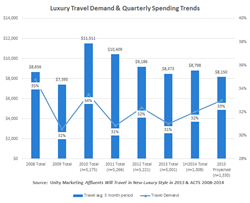 The saying goes, 'Hope for the best, plan for the worst,' and that should be the mantra for travel marketers this year.
Stevens, PA (PRWEB) January 15, 2015
At any time about one-half of affluents are planning a vacation within the next six-months, according to a new research study about affluents' luxury travel plans for 2015, from Unity Marketing. But this year, they are looking for new luxury travel experiences at a discount price.
For those that operate a travel business or serve the travel market, this trend report, Affluents Will Travel in New Luxury Style in 2015, reveals the new luxury style for this year's affluent traveler. It is a guide to capture some of the roughly $8,000 they expect to spend on their next vacation. It reveals detail research data from a new survey among n=1,330 affluent consumers about their travel plans for this year, as well historical data from Unity Marketing's quarterly Affluent Consumer Tracking Studies from 2008-1H2014, in order to track trends and shifts in this year's market.
Affluents plan to take 3 vacations on average in 2015, but they are waiting till the last minute to book. This works in their favor, as they carefully research all the available options, compare the many promotional offers received, and tap the internet and social media for reviews and recommendations. For travel planning, they are more DIY in 2015 and using travel professionals less than in 2013.
Further, due to growing global unrest and the Department of State issuing a 'worldwide caution' on January 9, 2015, it only makes sense to wait till the time is right.
Click this link to learn the top destinations for luxury travelers in 2015.
"This year the share of affluents who are undecided about their travel plans more than doubled from Unity Marketing's 2013 luxury travel study. Further, the projected budget for their next vacation is lower than we've tracked since 2009," Pam Danziger, president of Unity Marketing and author of the new study says. "Consumer uncertainty and lack of confidence is never a good sign for marketers and that is the environment that travel marketers face this year."
More affluents are undecided about travel plans & waiting for the last minute
Danziger continues, "The saying goes, 'Hope for the best, but plan for the worst,' and that should be the mantra for travel marketers this year. Given all the factors that can impact people's willingness to travel, especially overseas, travel marketers need to plan that their customers will be harder to commit to proposed trips this year. Those customers will be more demanding when it comes to getting the most for their investment and may look more aggressively to cut expenditures. Further, this may be an especially good year for the travel insurance business."
Travel rewards programs less rewarding in 2015
Another interesting trend found in this year's survey is that rewards programs, like those offered by the airlines, hotels and credit card companies, are less motivating for affluents in 2015 than two years ago. A growing share of affluents have no plans or are undecided if they will redeem rewards for travel this year. Further affluents report being less influenced by collecting rewards points in their choice of travel provider.
"Overall travel rewards programs are less rewarding to affluents in 2015 than in 2013. Since travel marketers rely heavily on rewards programs to market their services, this is an important call to action. It points to the need for travel providers to focus their marketing and rewards programs toward rewards that are more meaningful and motivating to affluent travelers. Saving money is always welcome, but just offering rewards in the form of discounts and savings may no longer be the ticket to building a loyal and high-spending customer base," Danziger says.
About Affluents Will Travel in New Luxury Style in 2015 trend report
Tapping a new survey of over 1,300 affluent travelers about their plans for travel in 2015 and perspective from six years of market research data, Unity Marketing reveals what's on the mind of today's luxury traveler. The new trend report, Affluents Will Travel in New Luxury Style in 2015, digs deeply into the spending habits and preferences of high-net-worth (HNW) and high-earners-not-rich-yet (HENRY) individuals.
In this report, travel marketers will learn:

Who has disposable income for travel expenses and where will they spend it in 2015?
How does today's traveler define luxury?
What is the role of the travel professional in today's luxury travel market?
What influences affluents when making travel plans? Which websites and travel publications are most important?
How affluents use social media to choose providers?
What are the top 10 destinations for affluent travelers?
How do affluents -- HNW & HENRYs -- spend their money while traveling?
How can you build a relationship with the next generation of Millennial travelers?
This report includes eye-opening statistics and detailed case studies to demonstrate how your hospitality firm or travel destination can thrive in today's value-oriented luxury travel market.
Success in luxury travel marketing begins with understanding the needs and desires of luxury travelers.
Click this link to download a list of the top travel destinations for luxury travelers in 2015 and to learn more about the report.
About Pam Danziger & Unity Marketing
Pamela N. Danziger is an internationally recognized expert specializing in consumer insights for marketers targeting the affluent consumer segment. She is president of Unity Marketing, a boutique marketing consulting firm she founded in 1992.
Pam received the Global Luxury Award for top luxury industry achievers presented at the Global Luxury Forum in 2007 by Harper's Bazaar. She was named to Luxury Daily's Luxury Women to Watch in 2013. She is a member of Jim Blasingame: The Small Business Advocate's Brain Trust and a contributing columnist to The Robin Report.
Her latest book is entitled Putting the Luxe Back in Luxury: How new consumer values are redefining the way we market luxury (Paramount Market Publishing, 2011). Her other books include Shopping: Why We Love It and How Retailers Can Create the Ultimate Customer Experience, published by Kaplan Publishing in October 2006; Let Them Eat Cake: Marketing Luxury to the Masses—as well as the Classes, (Dearborn Trade Publishing, 2005) and Why People Buy Things They Don't Need: Understanding and Predicting Consumer Behavior ( Dearborn Trade Publishing, 2004).