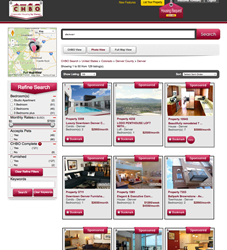 CHBO learned that Airbnb significantly beat HomeAway as one of respondents' "most used" marketing sources and Zillow beat Trulia by 2%. However, Airbnb and HomeAway tied as a source of the "most renters."
Denver, CO (PRWEB) January 15, 2015
CHBO reports the 6th annual CHBO Corporate Housing Real Estate survey and finds corporate housing furnished landlords say 2015 is the year of real estate profits. The outlook for the coming year is the strongest ever seen in survey responses. In fact 96% of real estate owners and managers from across the United States have a positive view of real estate rentals and corporate housing in 2015. The battle? Of those investors only 18% of those investors plan to buy more investment real estate in 2015, down 5% from 2014. Kimberly Smith, the co-founder of CorporateHousingbyOwner.com says "We believe investors are sitting on the sidelines because they can't find good deals."
Rental Success Starts With Understanding Data and Trends
CHBO reports that success starts with understanding trends. Just because something has worked in the past doesn't mean it will work in the future. Pay attention to the trends and avoid getting stuck doing the same thing over and over and greatly increase opportunities for rental (and financial) success.
Mrs. Smith, says corporate housing landlording is nothing new, but obviously an increasingly popular option these days for the savvy real estate investor. "My hope is that this report will continue to help real estate corporate housing landlords become more educated, knowledgeable and profitable as it allows them to deep-dive into emerging rental trends and how such trends will impact them personally."
For example, it's important to follow rental rate growth. CHBO often sees property owners get into the habit of not raising their rates. Yet the data in this report suggests that rental rates are going up in many markets. In high-growth markets, such as San Francisco, landlords may be greatly under-pricing rental property if not aware of what's going on in the market. The complete 51 page report is available for CHBO Users and on Amazon.com.
In this year's findings, CHBO learned that Airbnb significantly beat HomeAway as one of respondents' "most used" marketing sources and Zillow beat Trulia by 2%. However, Airbnb and HomeAway tied as a source of the "most renters" for many property owners as did Zillow and Trulia.
Savvy property owners and real estate investors, may want to list your property on CHBO, Airbnb and HomeAway for different reasons. Landlords looking to have lengthy monthly and yearly leases for furnished rentals find CHBO is the only website that rents many of its properties for one year or longer. Landlords looking to fill short-term gaps with different types of renters, Airbnb and HomeAway can provide high volume.
The biggest surprise this year was from those who market properties on Facebook. While 21% of respondents say they market rentals on Facebook, only 6% say they get qualified leads from Facebook, and NO respondent chose it as the place where most renters come from. Does this mean not to market a rental property on Facebook? Not necessarily. However, if time is limited, choose to do Facebook marketing last.
What to Know About This Report

Unique perspective. This report is different from other property management reports because it reflects input from independent owners and property managers, rather than full-service corporate housing companies.
Open participation. This survey was open to anyone who owned or managed a furnished monthly residential rental in 2014 – not just to CHBO users. The goal is to get a good snapshot of the independent corporate housing segment, so everyone can learn from relevant trends and be successful.
New terminology. Historically, this market segment was referred to as the "by owner" segment. Because this survey gathers input from property managers who oversee individually owned real estate, as well as property owners, the terminology has been changed to the "independent corporate housing real estate" segment.
Other key findings from the survey include
Rental rates rising. 35% report having higher or much higher rates in 2014 – up slightly from the previous two years. 61% of respondents say they offered the same rental rates in 2014 as they did in 2013. Only 4% lowered their rates, and for the first time ever, no one reported offering "much lower" rates.
Actual Rental Rates. In 2014, average rental rates went up for all property sizes, except four-bedroom units. (We believe the latter may reflect a variance in the sample size.) The largest increases in rental rates were for one-bedroom units and five+ bedroom units.
Investment Real Estate Trends. 44% of respondents say, "Yes, I plan on buying more real estate," rather than, "No, I'm done with real estate" at 13%. What's interesting is that despite the positive outlook reflected above for 2015, 42% of respondents say they "don't know" whether they'll buy more investment real estate. One possible reason for this answer may be the lack of value-priced real estate available on the market today.
Corporate housing has gone to the 'burbs. Counterintuitive to previous corporate housing trends where properties were located in "city centers," according to the majority of private corporate rentals who responded to this survey, CHBO real estate corporate rentals tend to be located in suburban areas (45%), followed by central urban areas (23%) and then outer urban areas (23%).
Got Pets. Many long-term business travelers are arriving with pets in tow. 36% percent of survey respondents say they accept some type of pet in their corporate rental. Why? Of those who accept pets, about 69% say they take pets because it "gets their properties rented."
Reasons for Being a Corporate Housing Landlord. 56% of respondents say the primary reason for being a corporate housing landlords is for the long-term investment, down slightly from 2013. This report has noticed an emerging trend of "partial landlords" – respondents that are renting a separate, fully functional guesthouse or apartment on the site of their primary residence.
Renter Types. In 2014, the top reason for renting was business assignments at 67%. This year relocation renters hit an all-time low of 42%. At an all-time high: family (35%), healthcare professionals (29%), snowbirds (19%), renters due to divorce (18%) and professional athletes (15%). And yes, "marijuana tourism" made the list in 2014 as a reason why people were renting corporate housing.
Security Deposits, Travel Insurance and ARDI. Similar to the last two years, 82% of respondents say they required some form of a refundable security deposit, and 6% of respondents say they required Accidental Rental Damage Insurance (ARDI) as an alternative to a security deposit. 65% of respondents say they collected a security deposit of $500 to $1000 or one month's rent. 12% didn't collect any type of deposit.
Credit Cards. Approximately 63% of respondents say they accept some form of credit card payment from their renters, up slightly from last year. In 2014, MasterCard and Visa replaced PayPal as the most popular credit solution by an 11% margin.
Internet Reservations. In 2014, again the question was asked how respondents feels about real-time booking reservations, in which the property is leased through a computer website and the property owner has no interaction with the tenant. 43% of respondents say they have used one of these programs (up a significant 18% over 2013).
To download a free copy of all Corporate Housing Real Estate Report, please visit http://www.CorporateHousingbyOwner.com.
About Corporate Housing by Owner (CHBO)
CHBO is a Team of Corporate Housing Professionals. CHBO works daily to support quality corporate housing rentals and qualified renters find solutions. We are focused on Corporate Housing rentals around the world and our on-line portal works to connect properties and renters as quickly as possible. CHBO was founded in 2006 out of a need to connect private homeowners and real estate investors offering furnished, monthly rentals with corporate housing seekers such as traveling executives, relocated professionals, traveling nurses, actors, athletes and more. The company provides individual homeowners and investors resources and guidance to help them strategically manage their corporate housing rental properties as well as exposes their properties to thousands of potential tenants worldwide who are seeking monthly housing options.