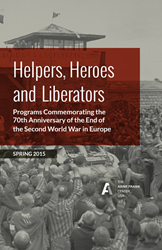 New York, NY (PRWEB) January 15, 2015
Spring 2015 marks the 70th anniversary of the liberation of the Nazi death camps, the death of Anne Frank, and the end of World War II in Europe. To commemorate these monumental events which altered the course of history, The Anne Frank Center USA will present two special exhibitions and series of programs that honor the victims, survivors and "upstanders" of World War II—the helpers, heroes and liberators.
By focusing on personal stories of Holocaust survivors and the righteous rescuers who helped so many, the Center will honor the memory and legacy of Anne Frank and all those who perished 70 years ago. These programs reaffirm our commitment to ensuring that new generations know this essential history and learn to apply the lessons of the Holocaust to today's world.
The series launches on Tuesday, January 27, 2015 - International Holocaust Memorial Day and also the 70th Anniversary of the liberation of Auschwitz - with a reading and discussion with Dr. Dan McMillan, author of the newly released "How Could This Happen: Explaining the Holocaust." The event will take place in our gallery at 44 Park Place from 6:30-8:00pm.
The series continues throughout the year with an array of readings, film screenings, and performances. The Center will also host two exhibits relating to the commemoration - one entitled "Artifacts and Memory: The Drawings of Nancy Patz" and another that is designed in conjunction with The Anne Frank House in Amsterdam. Entitled "The Helpers of the Secret Annex," the exhibit focuses on the brave individuals who provided food, clothing, medicine, books and magazines for the eight people hiding in the Secret Annex and who maintained the business of Otto Frank for two years. Opening on May 6, the exhibition will also include letters, photos, artifacts, slides, large framed exhibit panels, and filmed interviews with Otto Frank.
Events will take place at:
The Anne Frank Center USA
44 Park Place
New York, NY 10007
For a full event listing, including information about pricing, please visit The Center's website at: http://www.annefrank.com. To RSVP, contact info(at)annefrank(dot)com or call: 212-431-7993.
Funding provided by The Anne Frank House, The New York City Department of Cultural Affairs, The Kingdom of the Netherlands, KLM Royal Dutch Airlines, The Netherland-American Foundation, Inc., The Puffin Foundation West, Ltd., and The New York State Council on the Arts.
The Anne Frank Center USA, a partner organization of The Anne Frank House, uses the diary and spirit of Anne Frank as unique tools to advance her legacy, to educate young people and communities about the consequences of intolerance, racism and discrimination, and to inspire the next generation to build a world based on mutual respect.