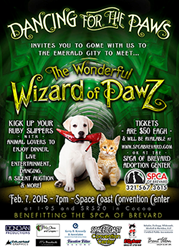 Come with us to the Emerald City...
Cocoa, Florida (PRWEB) January 14, 2015
Kick up your ruby slippers with animal lovers to enjoy dinner, live entertainment, dancing and silent auction at the SPCA of Brevard's 5th annual Dancing for the Paws: The Wonderful Wizard of Pawz on Saturday, February 7, 2015 at the Space Coast Convention Center at I-95 and SR520 in Cocoa. Doors open at 7 pm where guests will be greeted by characters from the Wizard of Oz as well as some of the SPCA's adoptable "munchkins."
Tickets are $50 and can be purchased at http://www.spcabrevard.com or at the SPCA Adoption Center located at 6035 Sisson Road in Titusville. Proceeds benefit the SPCA of Brevard, which is the largest no-kill rescue group in the county.
In addition to being a true no-kill shelter, the SPCA has assumed a leadership role in working with Brevard County Sheriff's Office Animal Services to make the entire county a no-kill community. Realizing the dream of saving all healthy, treatable animals can and will be achieved with the help from the entire community.
Part of the SPCA's commitment to saving lives involves transferring animals whose "time is up" at the County shelters into our shelter and placing them up for adoption. It found homes for nearly 2300 homeless animals in 2014 via satellite cat adoption centers at the Melbourne Square and Merritt Square Malls, a newly renovated 11,000 square foot adoption facility in Titusville and organizing two Community Mega Adoption Events.
For more information, contact Teri Scott at 321-567-3615 extension 246.
###
About SPCA of Brevard
The SPCA of Brevard is a private, non-profit organization with the mission of "protecting and providing a voice to the homeless animals of Brevard County." It receives no funding from the government and relies on private donations to be able to serve the community. It operates thrift stores in Titusville and Merritt Island, which are stocked solely with donations for resale to help fund adoption center locations.
Founded in 1979 in Titusville, Florida, the SPCA is the largest private no-kill animal rescue group in Brevard, will find homes for more than 2200 animals this year. It is the first adoption facility with free-roaming cat rooms in the County, allowing adopters to interact with the cats in a more home-like setting. Its new Adoption Center in Titusville is over 11,000 square feet and sits on nearly three acres. Additionally, it operates two satellite Cat Adoption Centers in the Melbourne and Merritt Square Malls, which have contributed to a 241% increase in adult cat adoptions. Additional adoption statistics can be found here. The SPCA of Brevard Clinic also provides reduced-price vaccines to the public and has performed more than 55,000 low-cost spay/neuter surgeries since 1999.
For more information, visit http://www.spcabrevard.com.