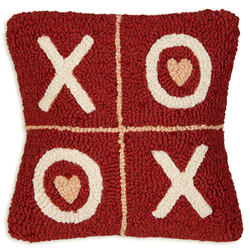 A great accent can define the feeling of a room without overwhelming the decor.
Manchester Center, VT (PRWEB) January 30, 2015
Valentine's Day is approaching and Chandler 4 Corners is ready. The home accents leader, known for bringing fine decor to the forefront of holiday tradition, has added two new hooked-wool pillows by designer Laura Megroz to their Valentine's Day collection.
"A great accent can define the feeling of a room without overwhelming the decor," said Henry Chandler, president of Chandler 4 Corners. "Laura's designs do just that. The hand hooked-wool is heirloom quality, and has a lasting power that will endure longer than any bouquet will."
Having added the two new accent pillows, "Hugs and Kisses" and "I Heart You," Chandler 4 Corners now offers a total of eight Valentine's Day throw pillows. With a company-wide belief that there's a perfect accent for every moment, Chandler has added to holiday lines for St. Patricks Day, Easter, as well as springtime floral motifs as part of their expanded 2015 catalog, which is available both online and in print.
"Just think, there's this pillow, it's simple, it's small, and says 'I love you.' It's a feeling and a moment to hold on to. It ties days and feelings together and provides an emotional backdrop for a special day," said David Chandler, Vice President of Chandler 4 Corners, "When the pillows come out, Chandler is now part of those memories, and we become an important part of our customers tradition."
Since 1991, Chandler 4 Corners of Manchester, Vermont has been committed to their tagline, 'Accent Your Life,' providing enduring connections through their hand-hooked wool pillows and accent rugs for the home accent industry. Selling to top retail and catalog companies throughout North America, they best known for the nostalgic and enduring designs of Laura Megroz. Today, with over 500 products to choose from, the company has expanded into canvas pillows, 100% wool flatweave rugs and accent furniture. In 2015, they unveiled the rug collection of folk artist Judith Reilly, "The Woodstock Collection". For more information, please visit chandler4corners.com.