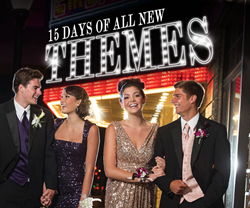 South Whitley, IN (PRWEB) January 19, 2015
Each year, Stumps Party researches the latest trends for Prom. In 2015, Stumps will be showcasing each new prom theme in the form of an email and on social media. Each school day, starting January 20th, a new theme will be announced.
On each of these 15 days, a link will be shared in email and on social media. The link will go to a contest form where Stumps will give away a prom theme kit of choice to a grand prize winner. This is valued at $1000.
Stumps Party has been a family-owned company located in South Whitley, IN since 1926. They specialize in Prom and Event decor with matching personalized party favors. Visit Stumps Party online and get social on Facebook, Twitter, Instagram and Pinterest.
Sign up for Email at http://www.stumpsparty.com
Follow us on Facebook at http://www.facebook.com/stumpsparty
Follow us on Twitter at http://www.twitter.com/stumpsparty