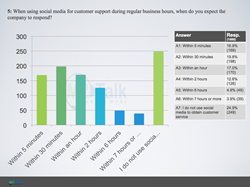 72.6% of consumers have threatened to cancel service as a means of conflict resolution.
(PRWEB) January 20, 2015
More Americans than ever might be using social media, but few of them prefer it as a customer service channel, according to a new study released today by M2Talk. While consumers do prefer a number of internet-based customer service channels, including email and live chat, only 2% prefer to solve their issues via social media.
The survey of 1,000 American adults age 25 and older reveals their attitudes and behaviors towards customer service. In addition to their attitudes towards social media customer service, the survey reveals that:
Consumers expect responses via social media within an hour. Perhaps the reason people don't prefer social media customer service is the wait time. Less than a quarter of respondents said they expected to wait an hour or more for a response to a social media customer service inquiry. A quarter of all respondents said that they do not use social media channels at all for customer service.
72.6% of consumers threaten to cancel service as a means of conflict resolution. These consumers share many common traits, including the likelihood of sharing negative customer service experiences with friends and avoiding products that have bad customer service reviews. Customers who threaten to cancel service are extremely likely to follow through on that threat. At the same time, the 26.4% of consumers who haven't threatened to cancel service display more passive traits. They accept longer hold times on customer service calls and prefer email to phone-based customer service.
Consumers who use internet-based customer service are more likely to share their experiences. Email and live chat might seem like passive forms of customer service, but people who use those channels are 10% more likely to share their positive experiences than consumers who use phone or in-person customer service. The survey found that consumers who use internet-based customer service are also slightly more likely to share negative experiences as well, but the effect is far more pronounced for sharing positive experiences.
Live chat and email come first. While a plurality of consumers prefer phone-based customer service, it is not their first choice when trying to resolve issues. More than two-thirds of respondents said that they are likely or very likely to try email or live chat customer service before calling on the phone.
You can find the full report, "Consumer Behaviors Towards Multi-Channel Customer Service," available at: http://m2talk.com/blog/studies/consumer-behaviors-towards-multi-channel-customer-service/
ABOUT THE SURVEY:
The statistics presented in this report are based on surveys conducted on November 24, 2014 among a US-based sample of 1,000 adults age 25 and older. The data were collected via a web-based survey form. The survey was conducted by AYTM.com - Ask Your Target Market - on behalf of M2Talk.com, and the sample was provided by AYTM.com.
The survey was administered in English only. The data is reported at 95% confidence level with a margin of error of + or - 3%.