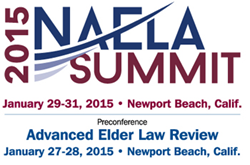 Newport Beach, CA (PRWEB) January 21, 2015
The NAELA Summit will be held from January 29-31, 2015, at the Island Hotel in Newport Beach, CA. Hosted by the National Academy of Elder Law Attorneys (NAELA), this event is a new approach to advanced learning, offering hands-on learning under the guidance of top experts in Elder and Special Needs Law. The conference offers reinforced learning by supporting learning styles and clear learning objectives for each of the sessions offered, including the following titles:

Working with Clients with Diminished Capacity – Dealing with the Roadblock of Denial, presented by dementia expert Teepa Snow;
Navigating the Medicare Maze: Successfully Challenging Medicare Skilled Nursing Facility (SNF) and Home Care Denials;
Legislative Update and Outlook: Learn How to Use the ABLE ACT and the Disabled Military Child Protection Act and What Could Happen in the Next Congress That Would Affect Your Practice; and
Timing Social Security Applications: Maximizing Benefits for the Worker, Spouse, and Adult Dependent Children.
View the full NAELA Summit schedule and other important details.
Members of the media are invited to attend the NAELA Summit. If you are interested in attending, please contact Communications Associate Abby Matienzo by email [amatienzo(at)naela(dot)org] or call 703-942-5711 #230.
About NAELA
Members of the National Academy of Elder Law Attorneys (NAELA) are attorneys who are experienced and trained in working with the legal problems of aging Americans and individuals of all ages with disabilities. Established in 1987, NAELA is a non-profit association that assists lawyers, bar organizations, and others. The mission of NAELA is to establish NAELA members as the premier providers of legal advocacy, guidance, and services to enhance the lives of people with special needs and people as they age. NAELA currently has members across the United States, Canada, Australia, and the United Kingdom. For more information, visit NAELA.org.