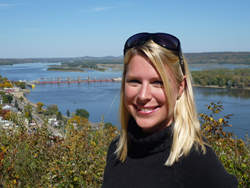 "If government would just get out of the way sometimes, we would be better off," Sarah Dickinson
Moline, IL (PRWEB) January 15, 2015
Entrepreneur Sarah Dickinson is developing her exploratory committee to run for Congress in 2016 from the 17th District in Illinois, a seat currently held by Cheri Bustos (D-IL).
"I empathize with the hard-working people of Northwest Illinois, many of whom need to hold more than one job to make ends meet. They certainly deserve stronger Congressional representation than they are receiving now." Dickinson continues, "My close understanding of the demands and struggles faced by our small business owners and families has led me here."
Dickinson, 35, is the mother of a 5-year old daughter and president of Illinois-based Great River Creative; a strategic marketing agency. Dickinson is also an Illinois-licensed real estate managing broker, holds an active Illinois teaching certificate and is the primary caretaker for her 90-year old mother-in-law. Dickinson and her family rent a home in Galena.
In 2013, Dickinson tested the waters for a similar Congressional run, but stepped aside after deciding that a contested primary would not be in the best interests of the Republican Party, or the people in the 17th District.
A self-described Reagan Republican, Dickinson would run on a strong platform of freedom, family, faith, lower taxes and limited government involvement. The University of Illinois-Chicago graduate will focus on reducing the business development hurdles faced by small businesses and ensuring a competitive position in the global marketplace for Illinois farmers.
"I understand the people of Northwest Illinois and the demands we all face on a daily basis. If government would just get out of the way sometimes, we would be better off," says Dickinson.
Dickinson says that many people of different backgrounds have urged her to run. "From single moms struggling to balance the checkbook, to small business owners drowning under heavy tax burdens and farmers in need of comprehensive and bi-partisan immigration reform; I am encouraged by the incredible support that I have received so far."
In closing, Dickinson says, "My family and I don't take this decision lightly. We recognize how important it is for the people of Northwest Illinois to have the best Congressional representation possible."
Dickinson said she plans to make the decision about whether to run in early spring.