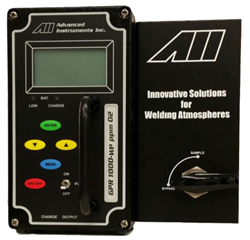 Pomona, CA (PRWEB) January 15, 2015
The new-to-market GPR-1000 WP Pipe Weld Purge PPM Oxygen Analyzer by Advanced Instruments is designed specifically for pipe welding applications. Featuring an innovative design and advanced long-life electrochemical oxygen sensor, this unit generates highly reliable trace ppm oxygen readings in seconds and is 40% less than competitive analyzers.
After using purge gas to remove oxygen from the weld area, professionals recommend welding only when oxygen levels have been reduced to less than 70 ppm in stainless steel welding, less than 50 ppm in titanium welding, and less than 10 ppm in the semiconductor industry to prevent oxidation, discoloration, and coking. The benefits of improving weld quality by reducing rest oxygen to trace ppm levels are driving standards lower in other industries such as aerospace, pharmaceutical, dairy, brewery, chemical, and food processing. The GPR-1000 WP is capable of measuring oxygen levels to meet standards in any of these applications.
The GPR-1000 WP is equipped with a built-in pump to draw the sample and a unique integral Bypass Valve. The Bypass Valve maintains the oxygen sensor at trace ppm oxygen levels, enabling the unit to come online in seconds. Powered by a heavy duty rechargeable battery, this unit is a true portable analyzer that gives the welder one week of typical use on an overnight charge. The electrochemical oxygen sensor contained in the GPR-1000 WP requires no maintenance and is unaffected by moisture or particulate matter. When the oxygen sensor reaches the end of its long life, it is replaced as easily as a battery. Additional features include 24/7 use while charging with an AC adapter, user-friendly controls, and aluminum casing to withstand the rigors and abuse of field work.
Add in the optional accessories such as a stainless steel gap probe, in-line filter, 2-10m of tubing, and a carrying case, this unit is an all-in-one portable welding companion that will increase welder productivity, reduce purge gas waste, and enhance weld quality. The value that the GPR-1000 WP Pipe Weld Purge PPM Oxygen Analyzer can provide welders is substantial in comparison to the low cost of ownership.
For additional information please see the attached brochure and contact one of our industrial sales representatives at info(at)aii1(dot)com, call us at 909-392-6900, or visit us on the web at http://www.aii1.com.