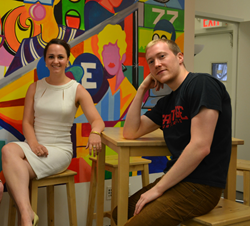 "Think of Poacht as a personal recruiter aggressively working for you all the time, even when you are not actively searching for a new job."
New York, N.Y. (PRWEB) January 15, 2015
Maisie Devine, 26, and Isaac Rothenbaum, 25, were recently named to Forbes magazine's 30 UNDER 30 list for "Notable People in Enterprise Technology." Initial selections were personally made by Forbes writers and editors and then vetted by expert judges.
Devine and Rothenbaum are being recognized for their work at Poacht Inc., a company they founded in March 2014. The Poacht team has worked to develop a covert job search app that uses a proprietary and sophisticated algorithm. The algorithm sorts through countless job candidates to match them to open positions posted on Poacht's employer web portal. According to Rothenbaum, "the unique feature of the algorithm is its use of 'fuzzy logic.'"
As an example, Rothenbaum referred to a prospective employer who requires proficiency in Microsoft Word. The candidate's profile on Poacht, however, lists experience in Microsoft Office. Not to worry. The 'fuzzy logic' of the Poacht algorithm would recognize a match despite the lack of exact correspondence.
"Think of Poacht as a personal recruiter aggressively working for you all the time, even when you are not actively searching for a new job," explained Devine. The Poacht platform puts together prospective employers and employees. When a match is made, interested employers will reach out to applicants via mobile device. With its intensive technology component, Poacht re-engineers the hiring process, making it a more private and cost-effective transaction between prospective employer and employee, and exponentially more efficient.
According to Forbes, "In its first six months, more than 250 employers (including seven Global 2000 firms) have signed up to recruit through (Poacht) and posted thousands of job listings."
To learn more about Poacht and its team, visit http://www.poachtapp.com.
About Maisie Devine
Devine grew up in Baltimore, Md. She was graduated from Calvert School and Roland Park Country School before attending Princeton University. At Princeton, Devine majored in art history and was a member of the university's women's lacrosse team. She became interested in entrepreneurship after attending a lecture by Under Armour CEO, Kevin Plank. Currently, Devine is living in New York City taking Poacht to the next level.
About Isaac Rothenbaum
Rothenbaum is a native of Oak Park, Ill. He was graduated from Oak Park and River Forest High School. Rothenbaum earned his Bachelor of Arts degree in computer science and graphic design from Carthage College, where he was a scholarship recipient and a member of the college's swim team. Pursuing his interest in technology, Rothenbaum entered Carnegie Mellon University to study in its school of computer science, eventually earning his Master of Science degree in software engineering. Rothenbaum currently lives in New York City where he develops and manages all of Poacht's technology.
###
Media Contact
Sandy Sponaugle or Meghan Burket
Sandy(at)platinumpr(dot)com
Meghan(at)platinumpr(dot)com
304-876-8321