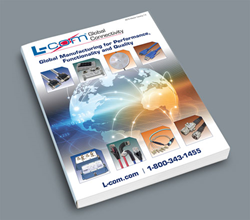 North Andover, MA (PRWEB) January 29, 2015
L-com Global Connectivity, a designer and manufacturer of wired and wireless connectivity products, has announced the release of their 2015 Master Catalog. L-com's new 273-page catalog boasts over 8,000 connectivity products including:

Wireless networking products including antennas, RF amplifiers, access points and more;
Industrial Ethernet products including switches, cable assemblies, connectors and adapters;
IP rated waterproof USB, Ethernet, A /V, D-Subminiature and fiber optic products;
MIL-STD-1553B Mil/Aero cables, connectors, data bus couplers and relay devices;
Electrical connector contact insertion/removal tools, connector sealing plugs and more.
Also included in the catalog are exclusive, new and hard to find products, as well as wired and wireless connectivity tips, tutorials and handy connector charts to help you identify various interfaces.
L-com's free 2015 Master Catalog can be obtained by calling 1-800-341-5266 or can be accessed online at http://www.l-com.com/content/catalog-request. Additionally, the catalog can be downloaded as a dynamic flipbook or as a PDF file.
For more information about this release, please contact:
Peter McNeil, Marketing Manager
978-682-6936 x1174, pmcneil@l-com.com
About L-com Global Connectivity
L-com Global Connectivity, a global leader in the manufacture of wired and wireless connectivity products, offers a wide range of solutions and unrivaled customer service for the electronics and data communications industries. The company's product portfolio includes cable assemblies, connectors, adapters, computer networking components, and custom products, as well as their HyperLink® brand of wireless products which include antennas, RF amplifiers, coaxial lightning and surge protectors, and NEMA rated enclosures. L-com's HyperLink® wireless products are designed for WiFi, WiMAX, SCADA, 802.11a/b/g/n/ac, RFID and Bluetooth applications. In addition to HyperLink®, L-com's other brands include MilesTek®, specialists in Military/Aeronautics connectivity solutions and Aiconics®, a leading manufacturer of electrical connector products. Trusted for over 30 years, L-com, which is headquartered in North Andover, MA, is ISO 9001: 2008 certified and many of its products are UL® recognized For more information, please visit: http://www.L-com.com/
###