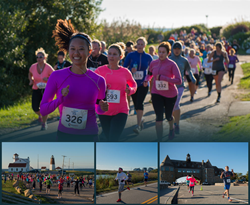 The course provides inspiring views of National Historic Landmark Fort Adams
Newport, RI (PRWEB) January 15, 2015
The New Year has just begun and the Newport 10 Miler, benefitting the Fort Adams Trust, is already off to an award-winning start. The race recently received awards for the Northeast Region by Competitor magazine. The race is coordinated by the Newport-based marketing consulting and event management agency Gray Matter Marketing.
The Newport 10-Miler was named 'Best Destination Race.' The course provides inspiring views of National Historic Landmark Fort Adams, the largest coastal fortress in North America, the vistas along Newport's famous Ocean Drive and then travels past the mansions on famed Bellevue Avenue. The race concludes on the historic grounds of Fort Adams.
The Newport 10-Miler was also awarded 'Best Race T-Shirt' in the same Competitor survey. The race logo featuring an interpretation of the iconic Fort Adams proved a hit with runners. This year's Newport 10-Miler will be held on June 7, 2015 and will benefit the Fort Adams Trust, the Fort's caretaker organization.
"We are honored to have these events recognized by our loyal fans," said Matthew Gray, President of Gray Matter Marketing. "The courses feature some of the most beautiful scenery in the country, and I am proud to be able to showcase that beauty through these great races."
Competitor magazine is owned by Competitor Group Inc., headquartered in San Diego, Calif. Each year, Competitor asks online readers and social media followers from around the country to nominate their favorite races, specialty shops, clubs, charity programs, coaches, products and more.
About Gray Matter Marketing
Gray Matter Marketing is a full service marketing consulting and event management agency based in Newport, Rhode Island. http://www.graymattermarketing.com/
About the Fort Adams Trust
The Fort Adams Trust is a 501 (c)(3) non-profit responsible for preserving, programming, and promoting the National Historic Landmarks in Fort Adams State Park in Newport, Rhode Island. Over 100,000 people tour the Fort and attend events in the Park annually. The Trust accepts donations to support its preservation and programming missions.
http://www.FortAdams.org
About Newport, Rhode Island
Newport, often called the City by the Sea, is also referred to as "New England's second global city." In addition to the incredible historic destinations and cultural activities, great restaurants and shops, and unrivaled scenic beauty, there is a cosmopolitan sophistication to the City. International visitors abound and you can hear multiple languages on the streets. http://www.discovernewport.org