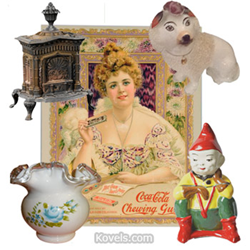 Cleveland, OH (PRWEB) January 15, 2015
Kovels.com examined its most searched-for items of 2014 and decided the list is notable for what it doesn't include. Collectors don't seem to be searching Kovels.com these days for furniture, art glass, silver or metal.
Twelve of the top 20 categories are pottery or porcelain, five can be considered advertising and three are (inexpensive) glass. Four categories—stoves, lighters, scales and cash registers—can be considered "tech" (even if from another time or century), but are not decorative. Focus has shifted from big collections of a single collecting category—say, 350 19th-century dolls—to small groups of unique items that are related by style, maker or theme—like ten of the best Roseville vases.
So what are the most popular collectibles? Here's what antique enthusiasts were researching in 2014:
1. Fenton
2. Occupied Japan
3. Coca-Cola
4. Stoves
5. McCoy
6. Depression glass
7. Bavaria
8. Wedgwood
9. Dinnerware
10. Capo-Di-Monte
11. Delft
12. Hull
13. Belleek
14. Satsuma
15. Bottles
16. Lighters
17. Scales
18. Red Wing
19. Cash registers
20. Pepsi-Cola
Buy a new but not yet popular collectible or antique if you want to get a great buy that will likely go up in value.
Collectors who search Kovels.com can learn more about identifying features, marks and prices. Kovels.com and "Kovels' Antiques and Collectibles Price Guide" list thousands of collectibles in hundreds of categories that are described, edited, priced and pictured.
Terry Kovel is America's foremost authority on antiques and collectibles. She is the well-known columnist and author of more than 100 books on antiques and collecting. With her daughter, Kim Kovel, she co-authors the best-selling annual "Kovels' Antiques and Collectibles Price Guide." The all-new 2015 edition is now available. They will discuss antiques and collectibles topics with accredited media. Photographs are available. Contact pr(at)kovels.com.
About Kovels.com
Kovels.com, created by Terry Kovel and Kim Kovel, provides collectors and researchers with up-to-date and accurate information on antiques and collectibles. Kovels' Antiques was founded in 1953 by Terry Kovel and her late husband, Ralph. Since then, Kovels' Antiques has published some of America's most popular books and articles about antiques, including the best-selling "Kovels' Antiques and Collectibles Price Guide," now in its 46th edition. The Kovels' website, online since 1998, and free weekly email, "Kovels Komments," give readers a bird's-eye view of the market through the latest news, auction reports, free online Price Guide, a Marks Dictionary, readers' questions with Kovels' answers and much more.
Contact Information:
Liz Lillis
216.752.2252
Pr(at)kovels(dot)com