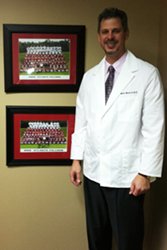 Buford, GA (PRWEB) January 14, 2015
People who need cosmetic dentistry restorations, such as crowns and fillings, in Buford, GA can now visit Dr. Randolph Moore to receive natural looking restorations in just one appointment. Dr. Moore now uses the CEREC dental restoration system, which utilizes digital impressions for tooth restoration. Fillings and crowns are produced in Dr. Moore's office giving patients quick, convenient access to customized restorations.
The CEREC system produces ceramic pieces to support teeth that are broken, decayed or otherwise weak and damaged. Dr. Moore's patients can receive new fillings or crowns in a single appointment. Dr. Moore starts by inspecting the tooth to determine what treatment is ideal. Using the CEREC system, Dr. Moore then takes a digital impression of the tooth, which is faster than creating a putty mold that requires time to set. In just a few minutes, the CEREC system can capture an accurate impression of the tooth, which is then used to make a three-dimensional tooth restoration. Production is completed with a milling machine located in Dr. Moore's office, so patients do not have to schedule follow-up cosmetic dentistry appointments to receive their restorations.
This minimal wait period benefits Dr. Moore's patients, since fillings and crowns improve tooth function as well as appearance. Fillings shield teeth with cavities or other damage against decay and further harm. Crowns offer additional protection for teeth that are badly cracked, fractured or decayed. Dr. Moore's use of ceramic, rather than metal, allows patients with metal allergies to receive crowns or fillings. Patients also find that ceramic tooth restorations offer a more natural appearance, since ceramic has a translucent quality.
People who are interested in improving their smiles and protecting their teeth through cosmetic dentistry are encouraged to schedule a consultation with Dr. Moore in Buford, GA. Since crowns and fillings actively prevent further harm to weakened, decayed or damaged teeth, patients are encouraged to schedule treatment as soon as possible. Patients can request an appointment by visiting Dr. Moore's website or contacting his office.
About the Doctor
Dr. Randolph S. Moore is a general dentist offering personalized dental care for patients in the Buford, GA area for over 20 years. Dr. Moore received his degree from the University of Alabama in Birmingham, and completed his residency at the Veterans Hospital in Birmingham. Dr. Moore is active in the dentistry field and is a member of the Georgia Dental Association, the American Dental Association, American General Dentistry, American Academy of Cosmetic Dentistry and ICOI (International Congress of Oral Implantologists). To learn more about Dr. Moore and his dental services visit their website at http://www.smilemooredentistry.com/, or call (770) 545-6141.