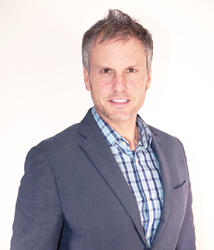 ...it's my goal to elevate Events.com in being ubiquitous for all things endurance sports.
La Jolla, Calif. (PRWEB) January 20, 2015
Events.com, provider of comprehensive and frictionless engagement cloud-based applications encouraging social interaction and enhancing the experience of putting on, promoting and attending events, today announced James Revell has joined the company as vice president of global marketing. In this role, Revell will build its global marketing organization, showcasing Events.com's event registration services, developing its brand, orchestrating their digital, traditional marketing and media strategy from the company's headquarters in La Jolla, CA.
With over 18 years of core marketing and brand experience, Revell has been a part of leading some of the top consumer television, cyber security and media brands most recently as Senior Director of Digital Marketing & Distribution for North America at Ticketmaster. He's had a seat on the Alumni Board for both his undergraduate and graduate schools, San Jose State University and Notre Dame de Namur University respectively.
"We are absolutely thrilled with James' addition to our leadership team. His deep background and vast relationships in the content, entertainment, ad tech and media spaces are assets of his that he is already leveraging," said Gregg Parise, CEO of Events.com. "With his entrepreneurial wiring and track record with global brands, I know James brings the needed acumen and discipline to our organization in order to succeed and scale."
"What an amazing opportunity to step in early with Events.com and be a part of a passionate team with innovative solutions for event organizers," said James Revell. "Our mission, vision, and core values are focused. We live by these and it's my goal to elevate Events.com in being ubiquitous for all things endurance sports and beyond."
Events.com Investors include Eric Schmidt's TomorrowVentures, Joe Lonsdale via Anduin Ventures, Chris Burch via JCB Investments, Moore Venture Partners, DLA Piper Venture Fund, Wilson Sonsini Investment Co., Vandaele Capital and Arctaris Income Fund.
About Events.com:
Events.com is a mobile-first, socially-focused suite of cloud-based applications that provides an ideal solution for event organizers and event goers alike. Organizers benefit from a dashboard that features the necessary tools to manage, market and monetize their events—including detailed analytics, robust reporting with actionable insights, integrated marketing and outreach tools, enhanced payment options, and comprehensive functionality to create interactive communities and affinity around their brands. Event goers get access and inspiration via the Events.com site—a place to explore experiences based on interests, discover aggregated social content and share the experiences that matter most to them.
Events.com Media Contact:
press(at)events(dot)com