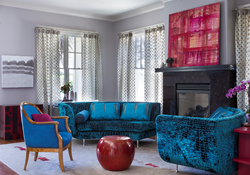 San Francisco, CA (PRWEB) January 15, 2015
Influenced by her longstanding appreciation and knowledge for contemporary art and modern architecture, Fannie Allen of Fannie Allen Design, has an innate talent for curating a space by transforming any room into a true work of art. With Fannie's additional background in both technology and business operations, she has a thorough understanding and strong relatability to her Bay Area clientele, many of which include savvy Silicon Valley professionals.
Fannie Allen Design's featured project showcases the designer's ability to capture her clients' unique passions through her thoughtful design. The Palo Alto residence, built for a busy Silicon Valley executive, was originally very neutral and subdued until Fannie added her artistic touch. After discovering her client's hidden love for bold color and penchant for travel, Fannie created a vibrant space that brought out the brilliance and finesse of the homeowner.
With antique casegoods from both Candace Barnes and Coup d'Etat, covered in exuberant deep orange and blue hides from Holly Hunt, the home glistens with bold blues and pops of pink. The client's most cherished room in the house--her stunning walk-in closet--was designed alongside California Closets with floral fabrics from Manuel Canovas - a marvelous reflection of the client's equally radiant and sophisticated wardrobe.
Fannie is honored to befriend the clients that she has and enjoys providing such a heartfelt service through the design and curation of their personal spaces.
Read full Gentry Home article here.
About Fannie Allen Design
Based on the Peninsula of the San Francisco Bay Area, Fannie Allen of Fannie Allen Design, has been helping clients find their bliss since 1996. She started her business after first exploring the world of high-tech. And with a BA in art history from Stanford University and an MBA from Harvard Business School, Fannie's transition into running her own design business was seamless. Fannie's design philosophy is simple: First, she learns how the client wants to use the space, then together, they figure out how to make it look fabulous.
Visit our website: http://www.fannieallendesign.com/