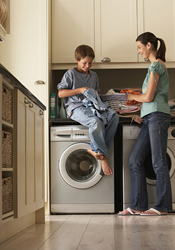 Trust is the new measure consumers use to evaluate brands.
Newport Beach, CA (PRWEB) January 15, 2015
Whirlpool ranks highest in trust among Washer and Dryer Brands according to Lifestory Research 2015 America's Most Trusted Study released today. Whirlpool was the most trusted Washer and Dryer brand among residential consumers actively shopping for a washer and/or dryer.
The study, in its inaugural year of measuring home appliances and systems, examines trust among residential customers. More than 10,000 consumers throughout the United States participated in the study in which they evaluated how much they trust Washer and Dryer Brands.
"Trust is the new measure by which consumers evaluate the companies that serve them," said Lifestory Research President and CEO Eric Snider. "Product manufactures have recognized the importance of gaining the trust of those that are shopping and using their products. When it comes to making purchase decisions, consumers seek out those brands that they trust."
In the Lifestory Research America's Most Trusted Study, consumers evaluated how they trust 15 different Washer and Dryer brands. Trust is measured through the Lifestory Research Net Trust Quotient Score. This score is based on the fundamental perspective that every organization's customer can be divided into three categories: "advocates," who feel a significant trust toward a given brand; "neutrals," who trust a specific brand, but do not see a specific brand as standing on the shoulders of other brands in regards to trust; and "antagonists," who are skeptics with little, if any, trust in a specific brand. Scores are standardized with 100 being equal to the overall average.
As the 2015 Lifestory Research America's Most Trusted Washer and Dryer Brands brand, Whirlpool produced a the highest Net Trust Quotient Score. The ranking of trust among the brands in the study in order are: (1) Whirlpool, (2) Maytag, (3) Kenmore, (4) LG, (5) Frigidaire, (6) Bosch, (7) Thermador, (8) Magic Chef, (9) Electrolux, (10) Amana, (11) Hotpoint, (12) Miele, (13) Fisher & Paykel, (14) Haier, and (15) Asko.
Detailed information about the study can be found at http://www.lifestoryresearch.com/most-trusted/
About Lifestory Research
Headquartered in Newport Beach, Calif., Lifestory Research is a trusted national independent market research firm focused on consumers and their homes. We take a consumer-centered approach to helping developers, home builders, financial institutions, product manufactures, utilities, and organizations serving customers in their homes. We provide timely analysis that allows our clients to make informed decisions. Our research is backed by in-depth consumer and market intelligence that drives confident business decisions. http://www.lifestoryresearch.com
About America's Most Trusted Award
America's Most Trusted is a designation awarded to companies that provide services or products to customers in their home. The award was first established in 2012 by Lifestory Research. Companies and categories currently awarded the designation of America's Most Trusted include: home builders, active adult resort home builders, electric utilities, kitchen appliance brands, laundry appliance brands, and residential realtor organizations. Awards are based upon the collection and evaluation of thousands of consumer surveys administered over the course of a 12 month time period. America's Most Trusted is a registered trademark of Lifestory Research.
Information from this press release must be accompanied by a statement identifying Lifestory Research as the publisher and the Lifestory Research 2015 America's Most Trusted Washer and Dryer Brand as the source. No advertising or other promotional use can be made of the information in this release or Lifestory Research survey results without the express prior written consent of Lifestory Research. America's Most Trusted is a registered trademark of Lifestory Research.
Detailed information about the study can be found at http://www.lifestoryresearch.com/most-trusted/