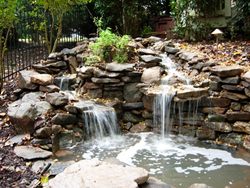 Winning this award encourages us to continue providing our customers with beautiful and unique outdoor living spaces
Atlanta, GA (PRWEB) January 15, 2015
Atlanta landscaping company Oasis Landscapes and Irrigation was just awarded Best of Kudzu 2014 for their residential and commercial landscaping and irrigation services in the metro Atlanta area. This award was voted on by the community of Kudzu, a leading source for business information and consumer reviews in Atlanta, GA and other markets.
Over 5 million businesses applied to be a Best of Kudzu 2014 winner across various categories including home, auto, health and professional services. Atlanta business winners were chosen based on votes from consumers in the Atlanta Kudzu community. Oasis Landscapes and Irrigation will be recognized with a Best of Kudzu 2014 badge displayed on their Kudzu business listing.
Kudzu is a platform that makes it easy for consumers to find businesses near them that they can trust. Owned by Cox Search Inc., a subsidiary of Cox Enterprises, Kudzu offers expert videos, articles, detailed business profiles and more.
"We take great pride in providing our customers with excellent services and we're very grateful to have been voted by Kudzu customers as one of the best landscaping companies in Atlanta," said Kevin Paulen, owner of Oasis Landscapes and Irrigation. "Winning this award encourages us to continue providing our customers with beautiful and unique outdoor living spaces."
Please visit the Kudzu website for a full list of the Best of Kudzu 2014 winners.
About Oasis Landscapes and Irrigation:
Oasis Landscapes and Irrigation is a family-owned business that has been providing customers throughout Atlanta and surrounding cities with residential and commercial landscaping services for over 25 years. Oasis takes pride in completing their projects on time and on budget, which include landscape design and installation, irrigation systems installation, outdoor lighting, outdoor kitchen design, water features, hardscapes and retaining walls, maintenance and more. Their team of experienced professionals work closely with customers from project conception to completion, ensuring high-quality results. To learn more, please visit https://www.oasislandscape.com/.