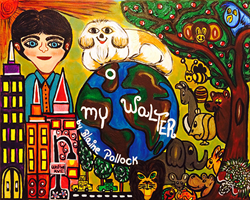 The Magical Adventure Of The Little White Dog Named Walter
Chula Vista, CA (PRWEB) January 16, 2015
Recently launched, "O My Walter" (http://omywalter.com/) is a mystical journey of a dog named Walter who is tasked with naming each animal in creation as they appear on earth.
Philanthropist, Businessman, and Author, Blaine Pollock, tells the story of how man became dog's best friend, drawing from theology and mythology prose.
TRPN founder Blaine Pollock is the creative force behind World News MD. (https://www.worldnewsmd.com) Mr. Pollock has dedicated his life to providing global health services and education.
All proceeds from the sale of this book are donated to children's hospitals nationwide. By purchasing this book, children all over the nation will be helped and be able to receive the most advanced medical care and proper treatment they so greatly need.
Follow Blaine Pollock at: BlainePollock.com, BlainePollock.net, Twitter @BlainePollock3,