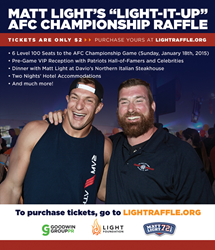 "To whom much is given, much is expected. I'm happy that I can give back to the hundreds of children who have gone through our camp as a result of our events and raffles like this one." - Former NE Patriot offensive lineman Matt Light
Foxborough, MA (PRWEB) January 15, 2015
Former New England Patriots football offensive lineman Matt Light today announced a fundraising raffle to benefit his nonprofit, The Light Foundation. The Light Foundation has teamed up with Celebrities for Charity for a raffle to win tickets and dinner with Matt Light for Sunday's AFC Championship game between the New England Patriots and the Indianapolis Colts at Gillette Stadium.
"We're excited that the Patriots have played football so well this season," says Light, "and we're just as thrilled to be able to host another online raffle, offering fans a chance at a playoff game package that includes six game tickets, dinner at Davio's, hotel accommodations and Julian Edelman signed cleats." He adds, "The Light Foundation supporters have always been there for us and we're looking forward to giving a half dozen of them an unforgettable game day experience."
Tickets to the online raffle can be purchased for $2.00 with a minimum $10.00 purchase and there are no limitations to how many tickets can be purchased per person. Tickets are available at: http://www.netraffle.org/raffle/index.php?rid=478 or at http://www.lightraffle.org, until 1:00PM ET on Friday, January 16th, 2015. Winner will be notified after the raffle closes and the drawing takes place.
For more information on the Light Foundation, visit http://www.mattlight72.com.
To purchase raffle tickets, visit http://www.lightraffle.org
The Light Foundation:
The Light Foundation (http://www.mattlightfoundation org) was established in 2001 by 3-time Super Bowl Champion and 3-time Pro-Bowler Matt Light. Matt was drafted in 2000 out of Purdue University and for more than a decade, served as the anchor for the New England Patriots Offensive Line. The Light Foundation strives to instill and augment the values of responsibility, accountability and hard work by providing youth with unique outdoor learning experiences that assist them in reaching their highest potential. Its goal is to lead young people down a path to becoming responsible members of their communities who are capable of passing on the torch of leadership and achievement to their friends and families. Matt Light received the third New England Patriots Ron Burton Community Service Award in 2005, and in 2008, was presented the President's Volunteer Service Award for his outstanding work in the community by the Bush administration. In 2014, he was also named Humanitarian of the Year by All Sports United. Since its inception in 2001, the Light Foundation has raised more than $5 million for various programs and initiatives.
About Celebrities for Charity:
The mission of the Celebrities for Charity Foundation is to "unite the goodwill of celebrities with the generosity of their fans to assist people in need," which it achieves by assisting celebrities, and related organizations; such as professional sports teams, in fulfilling their philanthropic aspirations. For more information visit: celebritiesforcharity.org.